Zinczenko Wants to 'Satisfy Global Appetite' for Women's Health

Editorial director looks to grow title abroad.
<![endif]-->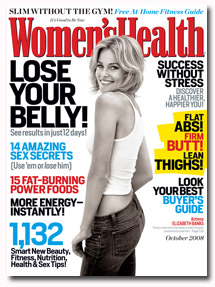 It's a time of transition for Women's Health as editor Tina
Johnson officially left this week after helping to steer the magazine since its launch
in 2005. It's also a time for opportunity, according to Men's
Health editor David Zinczenko, who in June took on the added
responsibility of serving as editorial director of Women's Health (he's
also editorial director for Rodale's Best Life). The first change is obvious
with the October issue—"W" star Elizabeth Banks is the magazine's
first-ever celebrity to appear on the cover.
"In the case of Women's Health, it's not just a profile for its own sake," Zinczenko wrote in an e-mail to FOLIO:. "We're trying to empower our readers to change their lives for the better by reading stories of women who have done the same thing. Elizabeth Banks is a great example to hold up."
Beyond tapping celebrity power—something Men's Health has done for years—Zinczenko says there is an opportunity now for Women's Health to "follow Men's Health's footsteps" and become "the dominant player" in its market—in the U.S. and abroad.
"While Women's Health has already spun off into other media including books and subscription sites, bookazines and fitness DVDs, our immediate focus is on satisfying the global appetite for international spin-offs," wrote Zinczenko. "The women's market is huge and is being underserved by traditional choices."
Rodale plans to make two international launch announcements for Women's Health before the end of the year, Zinczenko says, and possibly five more in 2009. Rodale currently publishes Women's Health in Australia, Argentina, Mexico, New Zealand and Turkey.
Meet the Author
---