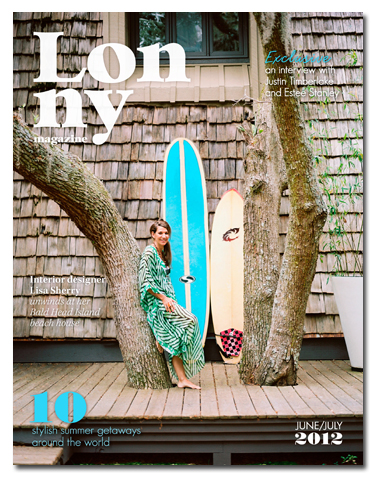 Zimbio Inc., parent company of Zimbio.com and StyleBistro.com, has a network that reaches an audience of more than 30 million global monthly readers across the fashion, beauty, celebrity and entertainment industries. The company will now be expanding into the interior design market with the acquisition of the home decor publication Lonny magazine.
"Zimbio focuses on lifestyle media categories," says Tony Mamone, CEO of Zimbio. "We were looking to expand into additional categories and the shelter or home decor category looked really appealing to us. There is a general lack of accessible, yet inspiring home decor coverage. There's a lot of high-end coverage, there are some emerging brands covering lower-end DIY stuff, but there's not a lot of stuff in the middle. We see this as a big opportunity."
Terms of the deal, says Mamone, will not be released.
Lonny is a three-year-old online-only magazine that offers an interactive digital edition, frequent blog posts and can get as many as 30 million page views per issue, and 200,000 unique visitors per month, according to USA Today. Mamone says the title was launched after Conde Nast shuttered Domino in 2009, which had a total paid and verified circulation of 1.12 million in just the first half of 2008.
"One of our favorites in the shelter category was Domino and some of that team had peeled off and started Lonny (after Domino shuttered)," says Mamone. "We've been following Lonny the last few years and we kept referencing back to Lonny when we were talking about the shelter category and what we would do with home decor. We had this interest in them all along—we've launched titles from scratch, like StyleBistro, which has been very successful for us. When you launch something from scratch you have no momentum so we thought it would be powerful for us as a company to go a different route with acquiring their company, brand and team."
The Lonny team will be maintained—one of the reasons Zimbio was attracted to the publication is because of its editorial staff, mission and vision. The New York-based Lonny was looking for a corporate transaction and strategic partner and Zimbio, which recently opened an East Coast office, was looking for a heighted presence in New York City. A Zimbio investor had mentioned Lonny was interested in a strategic partnership, and from there the deal took a total of two months to complete.
"We both got excited about it and it happened pretty quickly," says Mamone.
Individuals can currently buy printed copies of Lonny by request, and Mamone says it is "possible" that the company could launch the title into the medium as a regular printed publication. For now, however, the focus is on expanding through other mediums.
"Print isn't the main focus for us, its on digital distribution," says Mamone. "We look at Lonny and see an amazing editorial product with a keen eye for design. We're not planning to change the editorial product much at all. We want to power it up with enhanced technology and increased distribution. We've built a proprietary publishing system and content management system, and we'll be enabling the team with that technology. We want to bring Lonny to the iPad, onto more mobile platforms and bring them into 2012. We think if we can expose it to more people they'll love it."
There isn't a strategy in place as of right now, or launch date, for when Lonny will come to the iPad, the Apple Newsstand or to mobile devices. Eventually, says Mamone, there will be a push to get on all devices.
"We just think technology needs to be updated and distribution needs to be expanded so more people can read the magazine," he says. "As you gain audience, the business looks a lot stronger."