Ziff Davis Enterprise Sold to Lead-Gen Company QuinStreet

Sale occurs on the heels of ZDE's transition to all-digital.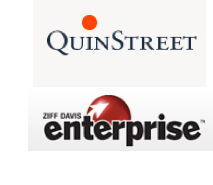 Ziff Davis Enterprise, one-half of what remains of one of the most storied companies in the history of publishing, was sold Friday to QuinStreet, a publicly-traded lead-generation marketing company based in Foster City, California.
Rumors of the transaction began popping up on Facebook and blogs late Friday, and ZDE CEO Steve Weitzner confirmed to Folio: on Saturday that the sale had occurred.
ZDE, which owns several brands in the IT space, including Baseline, CIO Insight, eWeek and ChannelInsider, was formed when the former Ziff Davis Media sold off its enterprise division in 2007 to private equity firm Insight Venture Partners for $160 million. That move split the company into two units, both with the Ziff Davis name. The other Ziff Davis Media, publisher of PC Magazine, entered bankruptcy in 2008. Both companies have converted to a digital-only posture in recent years.
Weitzner declined to provide additional details. Doug Valenti, CEO of QuinStreet, did not respond to an e-mail asking for details. It was unclear whether there were layoffs associated with the acquisition, or what QuinStreet planned to do with ZDE's media brands.
QuinStreet is a leader in vertical lead-generation marketing and media. It serves the education and financial services industries, as well as home services, business-to-business, and the medical and health industries. In December, the company partnered with Hanley Wood to create a lead-gen project targeting consumers interested in home rennovation called ProConnect. According to its financial statements, it produced $90 million in revenue for the quarter ending on December 31, 2011, and $400 million for the fiscal year ending on the same date.
See Also: Up to 100 Positions Will Be Terminated in Ziff Davis Enterprise Sale
Meet the Author
---