Ziff Davis Buys ComputerShopper.com

The brand returns to ZD after going through two other owners since 2001.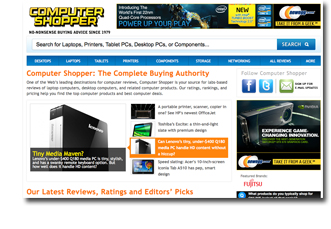 The 33-year-old Computer Shopper has some legs on it yet. The venerable brand dedicated to product reviews and comparison shopping of computer and technology products has been acquired by Ziff Davis, which owned it from 1993-2001.
Ziff Davis sold Computer Shopper to CNET in 2001, which then sold it to SX2 five years later when the company decided it was no longer a core brand. SX2 intended to use it as a stepping stone for a larger media portfolio which doesn't seem to have panned out.
SX2 took Computer Shopper online-only in early 2009 and the site now claims about 1.5 million unique visitors per month.
Ziff Davis has made five acquisitions in the last 16 months, including Toolbox.com, Focus Research Inc. and LogicBUY.com. The company has been amassing a larger and larger audience of technology enthusiasts and IT managers and, through the acquisitions of Focus Research and Toolbox.com, has formed a demand generation unit called B2B Focus.
Meet the Author
---