Ziff and Nielsen: The Backstory

Behind the restructuring and downsizing.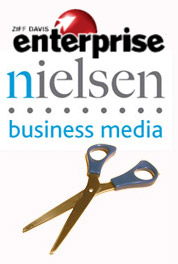 Two of the major b-to-b news stories this week—the restructuring at Ziff Davis Enterprise and the massive downsizing at Nielsen Co.—have interesting back stories.
When Steve Weitzner was named CEO of Ziff Davis Enterprise in January, he announced a major restructuring within days. The move surprised observers, but included no downsizing. The downsizing came this week.
But the cuts may have been foreshadowed last month when Insight Venture Partners—the company that carved out and acquired for $160 million a portion of Ziff Davis Media last June—took on a second private-equity partner. The new co-owner of ZDE was Bessemer Venture Partners, which put $20 million into the company in a move characterized as providing funding for acquisitions.
That may not be the case. Private-equity firms, says one industry source, are highly reluctant to dilute their equity position, and would only choose to do so in the event that they needed to-presumably because performance goals were not being hit.
This is, of course, pretty much pure speculation, but equity is the most expensive form of capital, and it's more likely that the BVP investment is a sign of turbulence than it's a bullish greenlight for acquisitions.
Regarding the Nielsen downsizing, one observer told me that it looks like standard General Electric practice. Of course, Nielsen CEO David Calhoun comes from GE. "It's the old GE playbook," the observer said. "They get handed their marching orders. Grow revenue in the high single digits and EBITDA by 15 percent. No questions asked."
Meet the Author
---