If you are a media company, your top-selling product for 2017 probably hasn't been invented yet. This was one of the more headline-worthy findings of JEGI's 2014 Media Growth Study (pdf). You don't have to believe in Kurzweil's Singularity to see that the rate of change in information technology is accelerating. The shrinking time-to-adoption curves in this plot illustrate that technologies go from invention to mass adoption more quickly every year.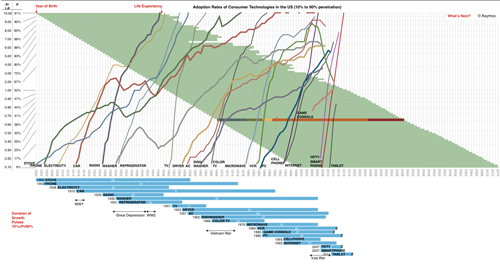 It's easy to be overwhelmed by the rate of change, and get caught up in chasing the latest technology as the savior of your business. But when new technology goes mass-market so quickly, the competitive advantage it confers to early adopters doesn't last very long. Soon everybody has it and it's just table stakes. All industries are in the process of being disrupted by information technology, even if they don't all see it yet.
I believe the only way to maintain competitive advantage is to be better and faster than your competitors at translating customer needs into new business models. The promise of predictive analytics based on Big Data may allow deep-pocketed companies to build defensible market positions for themselves for a time, but automation and optimization can only go so far. We aren't yet at the point where algorithms can make the leap from vaguely-expressed customer frustration to ground-breaking new product concept.
Where do you start? In the JEGI study, 31 percent of executives said they had a structured innovation program for generating new product ideas, while 71 percent said launching new products or services would be a top growth driver over the next two years. That's a disconnect you can take advantage of. Create and embrace a structure for innovation in your company and you'll innovate faster and more effectively. What does that structure look like? Sounds like a great topic for another post.