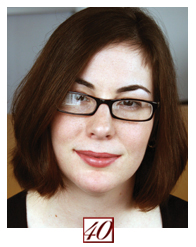 New titles are emerging daily with the shift to digital, such as "community editor," "multimedia asset manager" and "metrics analyst." Add to that list "online media optimization manager," a new position Hanley Wood developed to salvage underperforming campaigns and save thousands of dollars in potential digital makegoods.
Hanley Wood vet Martha Luchsinger, who has held positions including production operations manager and sales and data manager was tapped for the position late last year for her ability to analyze data complex data. She now oversees all aspects of Hanley Wood's online reporting and as it relates to performance and uses that data to identify issues and come up with solutions before a campaign runs off the rails.
For Hanley Wood Luchsinger has cut the online revenue loss due to under-delivery by 30 percent, saving thousands of dollars. For us, she warrants a place on the 2008 FOLIO: 40. And for the rest of the industry, she could be the model for the next MVP in your online department.