Your Next CEO Could Be Your Banker

For better or worse, more bankers are taking hands-on control.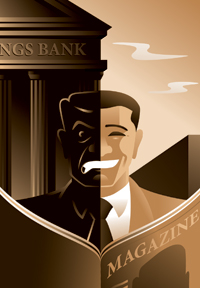 Forget about new media or broadcast hotshots coming in to whip traditional publishing companies into shape. With so many covenants in danger of violation and some publishers teetering on the edge of bankruptcy, it's the bankers themselves who are assuming day-to-day control.
Magazine publishers have seen three recent examples. At presstime, ABRY Partners was negotiating with GE Capital for the takeover of Cygnus Business Media, with Charlie Carnaval, an executive with Zolfo Cooper, a New York-based firm specializing in corporate restructuring, replacing outgoing Cygnus co-CEOs Carr Davis and Tony O'Brien. This is essentially the equivalent of ABRY walking away from its mortgage and turning it over to the bank.
Last month, private investment firm BIA Digital took over Douglas Publications, which it first invested in as part of Douglas' estimated $15 million acquisition of the Briefings Publishing Group. "Let's just say that when an existing lender 'acquires' a company, it is not normally a good sign that everything was performing well," one observer told FOLIO: (in an e-mail to FOLIO:, founder Alan Douglas wrote that he filed a lawsuit against BIA prior to the change).
And last fall, the board of directors of Zweigwhite replaced president and CEO Dick Ryan with Ian Rusk, former executive vice president and director of the company's advisory services, while media operations were taken over by Stagnito Media CEO Harry Stagnito. Last month, Zweigwhite announced it completed a restructuring that includes a new round of investments and transfer of CE News and Structural Engineer to Stagnito.
In the short term, this means many of these companies can stave off declaring bankruptcy. But in the long run, it could mean these companies will get whittled down and sold off as shells of their former selves. "In the current economic and M&A environment, we may see some more of these distressed situations in which there is a limited market for assets and companies have challenges keeping current on covenants or debt service," one industry observer told FOLIO: regarding the takeover of Douglas. "It is not a good thing for the industry, but one of the outcomes of a severe economic downturn and the effective closing of the capital markets."
Bankers to the Rescue?
With high-multiple transactions all but impossible to complete until the credit markets begin improving, a new breed of investment fund is starting to pop up, which focuses on smaller publishers that may be struggling (or simply in need of recapitalization) but show potential for a short-term turnaround.
Chris Shannon, formerly managing director at media investment banker Berkery Noyes, recently became president of a new media holding company called Quadra Media Holdings, which invests in a number of media properties including Nylon, Inked, Tokion and newyorkgirlstyle.com.  Quadra Media puts together a number of smaller media companies and brands under one holding company. "We usually don't buy the whole thing outright but we do buy enough to have financial and operational control," says Shannon. "We don't get into control creative control and we let the sales people do their thing."
The idea is to take a small, underinvested company and roll that into a group with cross-over in operations, printing and office space. "We keep it lean," says Shannon. "The big guys don't want to get into this. We'll buy companies in the $1 million to $5 million range." Quadra Media is currently worth about $17 million in revenue (but with new deals in the works at presstime, should be worth $20 million to $25 million in the near future).
"Last fall, the world changed," says Shannon. "If you don't have to sell something now, don't sell it. Build for a couple years, then if something comes along, sell it. Right now is the worst time to sell things, the only people selling are those with a need to or a problem, and they aren't going to get anything for it. You can pick up something and put the operations together pretty cheaply."
Quadra is looking at print, online, events and increasingly, mobile properties. Inked, which is dedicated to tattoo artists and enthusiasts, has been a surprise performer for Quadra, posting a 70 percent sell-through with its last issue. "The Web community for the tattoo market is very strong, very committed and on the events side, the events are well attended and global. People spend a lot of money," says Shannon. "Inked is a great brand and a good licensing brand. Now they put it on the newsstand right beside Maxim. Historically, it's been hard to market and sell tattoo magazines. Inked is a good looking, high-end magazine. Each issue does better and better."
Ninety Day Limit
But Quadra isn't some guardian angel. Once the operations are put in place, the company expects a very short turnaround. "We want to see strong impact in the first 90 days," says Shannon. "There's more than enough other ones where you can't make an impact and they should die in 90 days. We're in this to make money. We've looked at a lot of things where if you can't get it corrected in 90 days and start making money in six months to a year, it's better to let it die."
Quadra tries to keep the previous ownership when possible. "If they do want to get out that's fine but that's not what we're looking for," says Shannon. "We want the original owners to stay. They need to be incented to keep growing the business."
Nylon is another one of Quadra's successes. "If you look at Nylon, they were invested in correctly a few years ago and now they're doing fantastic," says Shannon. "They were up in 2008 and in the first quarter of this year, they'll be up again. It's a niche mag but it goes up against big mags like Lucky and Cosmo with a lean, lean staff. They don't have to do the big numbers a Conde Nast requires."
Smaller publishers also have an advantage in seeing online pay off, according to Shannon. "Last year alone, Nylon saw a high percentage of revenue from the Web, much higher than any of those big guys can dream about," he says. "It's relative, this is not a $50 million franchise. I'd rather have smaller dollars and higher margins than deal with all the stuff that comes along with what you need to do to keep a $75 million magazine going."
Shannon says Quadra is looking to grow to about $50 million to $60 million in combined revenue.
Along with Quadra founder and Pinchazo Publishing Group president Don Hellinger, Shannon says Quadra is able to bring a deeper level of understanding to the publishers it invests in. "The thing is to keep the company profitable, lean and flat," he adds.  "It's a rough and tumble time and it's only getting tougher. People are always a little afraid of investment bankers. They look at us and say, 'Here's these sharks coming in who will give us debt and move on.' All investment bankers can talk numbers but few can talk about the ad/edit ratio or what paper stock  you're using. That gives them a different comfort level.
Meet the Author
---