Yoga Journal Jumps on E-Commerce Bandwagon

Big gains in traffic, prior net sales and social audience drive decision.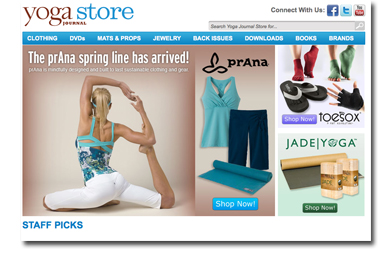 Yoga Journal is leveraging big gains in traffic, social media audience and promising sales of DVD products into a full-blown e-commerce store. The expanded product line will include two-dozen brands and will sell clothing, jewelry, accessories, footwear, DVDs and other products.
According to Yoga Journal, February traffic to the brand's version-one store site increased 305 percent over the same period last year. Before launching this new dedicated store, the site only sold DVD products, but those net sales increased 86 percent during the same period, says the company.
YogajJournal.com averages about one million unique visitors a month, and traffic to the site has increased 35 percent year over year. And with healthy followings on Facebook (230,000 fans) and Twitter (75,000 followers) the audience saturation reached a point where increased sales across a greater range of products was a real possibility.
The site is using Nox Solutions for the e-commerce back-end and Yoga Journal's parent company Active Interest Media says it will be rolling out more magazine-branded e-commerce stores throughout 2012. AIM also publishes Backpacker, Black Belt and American Cowboy magazines, among others.
Meet the Author
---