Yankee Magazine Turns 75

Sub price increases expected to help boost revenue by 6 percent over next year.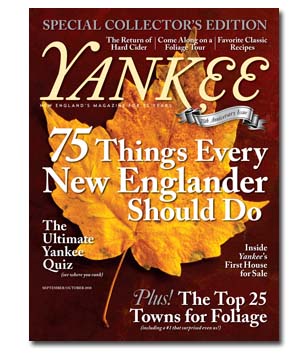 In September, Yankee Magazine turns 75 and its September/October issue (hitting August 24) features some old favorites and new departments recognizing the milestone, including the "Ultimate Yankee quiz" (to determine if you really are a New Englander), a list of the top 25 towns for viewing fall foliage, six classic food recipes from past issues and a look back at the first home profiled in the magazine's popular House for Sale department, which tells about the history and owners of the featured home. Yankee is also releasing 70,000 newsstand copies of a bookazine featuring the magazine's best recipes.
 
While many other publishers are facing dramatic changes in their business model, Yankee remains subscription-driven (350,000 circulation with 25,000 newsstand and the rest subscription) with advertising a secondary revenue stream. "We've always made more money from the consumer than the advertiser," says Jamie Trowbridge, president of Yankee Publishing. "When an outside consultant looks at our books, they say, 'Oh my God, all you have to do is sell more advertising and you'll be printing money.' We just haven't been able to do it. We don't serve a vertical interest, we're a general interest magazine about the region. A city magazine or regional magazine has regional verticality that we don't."
 
With renewal rates in the 75 percent range, making more money on the consumer is the goal, and Yankee has experimented with higher prices. "Increasing subscriptions is fundamental to our long-term success," says Trowbridge. "Over the past year we've launched the Yankee Advantage Club, which offers special offers and discounts from advertisers help justify the price increase. We have to get prices up. For years we've been preserving the circulation level by discounting subscriptions pretty aggressively. Now we're feeling it's more important to get more money from the consumer."
 
Yankee Publishing is also experimenting with e-commerce and is looking to sell vacations and travel-related products through its site. "We're thinking our affinity may extend to shopping, gifts and travel," says Trowbridge. "We've considered developing a network of New England Web sites as well. Although we won't be early adopters, we're excited about the iPad and any kind of e-reader. We're frustrated by the limits on the number of pages we can publish in the magazine imposed by the ad base."
 
Trowbridge expects the magazine price increase as well as emerging online efforts to contribute to a 6 percent increase in revenue over the next fiscal year (ending June 30). "Whenever you start to play with subscription pricing it takes forever for it to impact the bottom line," he says. "We've been making changes over the last two years and we're going to start to see the benefit in the coming year."
Meet the Author
---