Yahoo! Unveils Homepage Redesign

Changes emphasize mobile, engagement, social features.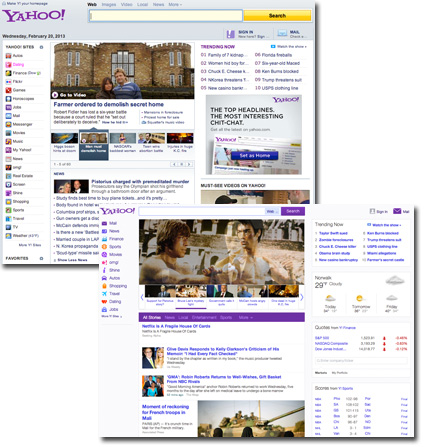 The largest web portal in the U.S. officially unveiled its redesign Wednesday, a move that Yahoo! CEO Marissa Mayer hopes will boost declining user engagement.
Though more drastic alterations had been rumored since October, today's changes are more notable in utility than in surface appearance.
The site has added infinite scroll capabilities, a customizable newsfeed, improved recommendation algorithms and enhanced Facebook integration. Yahoo.com has also been mobile and tablet optimized and, Mayer says, runs faster.
"We wanted it to be familiar but also wanted it to embrace some of the modern paradigms of the web," she told NBC's Today Show.
The redesign comes in the wake of falling engagement numbers like unique visitors, total page views and minutes spent-statistics all made publically available by the company until it decided to stop the practice at the midway point of last year. As first reported by AllThingsD.com, consistent declines in overall growth, and more specifically, its media properties, were apparent.
Homepage traffic has been shaky recently as well. Monthly unique visitors dipped 17 percent year-over-year in November, while posting a modest 4-percent gain in December, according to comScore.
While enhanced Facebook integration was expected–"A lot of the strengths of Facebook are available to Yahoo users. That's something we want to build upon," Mayer commented to an investor conference last week–the new Yahoo.com does not readily link to one of its more popular features, the image-sharing site, Flickr.
Flickr usage spiked 25 percent recently following a mobile app redesign of its own and the unpopular Terms of Service announcement from competitor, Instagram.
Stay updated on the latest FOLIO: news, follow us on Facebook & Twitter!
Meet the Author
---