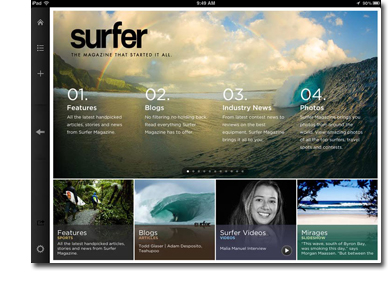 On its last earnings call, Yahoo! announced a round of product consolidations and its six-month old Livestand is one of the casualties. The company announced late last week that it will shut down the iOS newsstand app to focus on other opportunities in the mobile space.
Livestand launched last November for the iPad and aggregated its own content along with content from third-party publishers into a personalized format. The product joined others already on the market like Flipboard, Pulse and Zite. Indeed, according to the announcement, it appears that Livestand struggled in an already crowded aggregation app market. "And when we discontinue products, it will be so that we can focus on opportunities where we lead and where we can create the most meaningful experiences for people using our products, and for our partners, developers and advertisers. One of the first decisions we've made along these lines is to discontinue our personalized digital newsstand app, Livestand for iPad," says the company.
The move is made even as the Yahoo! pushes a new mobile-first strategy that Livestand no longer seems to fit. The company's new Axis search product is touted as an example of the latest iteration of this strategy. "While we received great feedback on Livestand's design and it earned a 4-star rating in the App Store, we committed ourselves to continuously measure and scrutinize what's working and what isn't. We have learned a lot from Livestand and are actively applying those insights toward the development of future products that are better aligned with Yahoo!'s holistic mobile strategy," says the company.
Source Interlink is one of the publishers that partnered with Livestand, using it as part of a broader digital content expansion plan. "We had a number of products on there, but the key thing is we're not hitching our wagon on one platform, there's a lot out there," says Angus MacKenzie, MotorTrend's editor-in-chief. "These things are going to work through the system."
That Livestand has shuttered seems to simply be a matter of course for MacKenzie, who says Source continues to evaluate "every single platform that comes along" in an effort to make sure their content is on the same platforms that their customers are using. "It's interesting, the portal business is clearly looking for different models themselves. They realize that original content is hugely valuable. They'll keep trying."