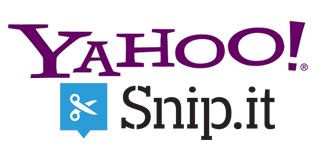 The last few years have been bumpy for online giant Yahoo! with its series of top-level executive changes. But now that new CEO Marissa Mayer is in command, the company is expanding at its quickest pace in recent memory. The business's latest portfolio growth came Tuesday in the form of acquisition: The Pinterest-like social news-clipping site Snip.it was purchased by Yahoo! for a reported $10 million.
News of the deal, which was first broke by AllThingsD, was confirmed by the start-up itself in a blog post. "We are thrilled at the opportunity to bring Snip.it's vision to a larger scale at Yahoo!," says the statement from the 10-member Snip.it team. "While we can't share the specifics of what we'll be building, we are excited about the opportunity to take social news to new, exciting heights at Yahoo!."
In addition to Snip.it, Yahoo! acquired video chat startup OnTheAir in December 2012, and Mayer carried out her first M&A deal in October 2012.
"Since Marissa Mayer's appointment as Yahoo!'s new CEO earlier this year (2012), she has sought to expand the company's mobile offerings since the space is integral to Yahoo!'s future growth," an unrelated statement from the company says. "As a part of its mobile strategy, the company is eyeing smaller companies with engineering talent and mobile computing specialists. On similar lines, Yahoo! acquired a mobile startup Stamped in October (2012). Its application enables consumers to share information about their favorite restaurants and music on their smartphones."
The Snip.it site is no longer available as it undergoes the transition into Yahoo!. For users, however, the company built an option to download and export the owner's social content, and it created a Snip.it Hall of Fame to recognize its top community contributors.
Stay updated on the latest FOLIO: news, follow us on Facebook & Twitter!