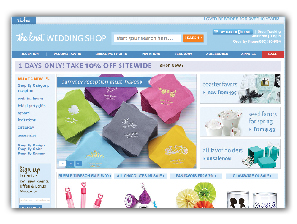 The XO Group Inc., which runs flagship brand The Knot, as well as The Bump and The Nest, is an old hat at e-commerce, having launched its shopping site in 2000. That perspective has allowed the organization to build a robust, standalone operation that sells 4,000 product SKUs (wedding and baby supplies) and accounted for about 17 percent of the company's 2012 revenue. Merchandise sales for the full year totaled $21.4 million.
The Knot's wedding shop,  for example, sells wedding essentials for the day of the event, plus reception collections, party favors and bridal party gifts. The differentiator, says e-commerce director Cassie Troiano, is many of the products are able to be personalized.
The All-Important Edit Tie-Ins
Part of the shopping site's success is supported with close editorial tie-ins. "We integrate our marketing with our editorial content on the site," says Troiano. "Since it is a true editorialized site, we don't just drive all our users to the shop. But where appropriate or relevant we will capitalize on trends. Paper lanterns might be trending for spring or summer and we'd show them in a real situation and then give them a link to purchase."
The shop has its own location on the navigation bar, and products are also included in the site's search functionality. Product images have been tagged so they appear along with article links in the search results.
The Knot, which operates on a community membership model—the company claims to have eight out of ten brides as members—is able to segment its audience according to the characteristics and data they've shown in their profiles. "We have that membership information—event date, colors and the like and we can target relevant emails based on where the brides are in the process," says Troiano. "That's one of our stronger sources, the traditional marketing channels."
Social has become another significant traffic source and Troiano's team has been working on ways to drive more social interaction and sharing both on-site and on the social platforms themselves. "One of the things we're putting together is a styleboard based on themes important for weddings. We can show them what their event might look like and the styleboards can be shared, which drives traffic back to the site," she says.
Mobile has been identified as another big opportunity. It's been a strong traffic driver, and XO Group launched a dedicated mobile e-commerce site in March, but conversion rates are not yet as high as the desktop, says Troiano.
The e-commerce platform runs on an in-house proprietary system and the XO Group manages its own fulfillment and warehousing. "Anything we stock we buy wholesale. We have small drop-ship affiliates and we're currently looking to expand into categories that are new to us where we haven't historically had products—things outside the day of the event. In that case, we'd go with an affiliate model to test," says Troiano.
From a trend perspective, Troiano says most e-commerce models are set up through an affiliate deal, which allows the publisher to avoid building out inventory, picking and packing and fulfillment operations. "Most of the models have been and probably will be more of the affiliate nature," she says. "It takes a lot of work to manage a huge warehouse and staff."
Takeaway:
The XO Group's e-commerce operation is adding a mobile component. Traffic is significant, but conversion rates are still behind desktop shoppers.