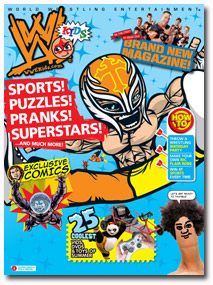 Hoping to tap further into the interest of its flagship WWE magazine, World Wrestling Entertainment announced Tuesday its plans to launch WWE Kids, a bi-monthly title set to hit newsstands April 15.
"We know the universe of WWE fans is growing, and our editorial team has put together a great product with WWE Kids for an avid fan base," WWE vice president and publishing director Bob Lee tells FOLIO:.
With a 100,000 initial circulation and $3.95 cover price, WWE Kids is targeting children aged 6 to 14 and will be available in 60,000 to 70,000 retail outlets around the country. Depending on its performance this year, Lee says, WWE may increase its frequency to 10 times per year in 2009.
Content will range from fitness to nutrition to geography to esteem building, WWE says.
The company's flagship, WWE magazine, has increased its rate base to 300,000, Lee says. It had a BPA-audited circulation of 250,000 when it launched in 2006.