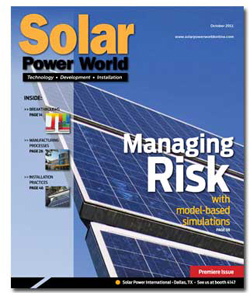 Business-to-business media company WTWH Media, LLC isn't afraid of the uncertainty surrounding the magazine market place—the company is launching a new title this month called Solar Power World magazine in an effort to expand its portfolio.
The new publication is a brand extension of the group's renewable energy division and is designed to complement Windpower Engineering and Development magazine. Solar Power World magazine was originally a quarterly supplement to WTWH's Design World magazine.
"In order to expand the advertiser base to other categories we needed a broader reach outside our engineering audience," says Scott McCafferty, co-founder and managing director for the publication.
The magazine will be published six times a year, alternating in an every other month style with Windpower Engineering and Development magazine. So far, the title has a circulation of 13,000 and will have 10,000 e-newsletter subscribers and at least six scheduled webinars.
"The six times a year frequency shows that we're committed to the market," says McCafferty. "The idea is there's a lot of crossover in the advertisers that market in both wind and solar technologies. As opposed to clustering the topics into one, we wanted to have two distinct editorial voices for the respective markets."
In addition to the print product, newsletters and Webinars, the title will be rolling out online banners, developing lead generation efforts and executing strategies on Twitter, Facebook and LinkedIn. McCafferty says WTWH is going to be providing ROI to marketers associated with their investment through selling these integrated programs.
There is also a Solar Farm online database to keep readers engaged throughout the year and provide a circulation strategy in seeing who "the power purchasers are, who developed the solar projects and who maintains them," says McCafferty. "It gives us a good baseline of who the readers are from a print and newsletter standpoint and who we're supposed to deliver against. For the user, it's probably the most easily accessible database of where solar projects are."
The Solar Farm database has online selection tools for panel manufacturers, inverters manufacturers and racking and mounting systems as well as a comprehensive map of solar farms throughout the United States above 1 megawatt or larger.
While there aren't any plans as of right now to design a mobile, digital e-Reader or iPad app for the new magazine, McCafferty did say that Design World has an in-app RSS feed that will include content from the renewable energy publications.
"The next notion is that we have to mobilize via iPad and digital readers for wind and solar with this commitment," he says. "It's not just about a print magazine—you don't just post content when the issue comes out. We'll be constantly updating, constantly engaging and using all the different mediums to drive people to the Web site. The user is in control when they receive the information by what channel they get it by."