WTWH Media Buys Electro-Tech-Online Forum

Deal boosts registered audience by 170,000 users.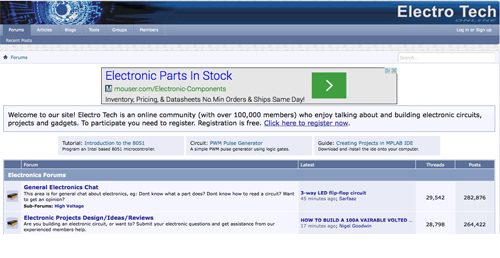 Cleveland-based WTWH Media, a b-to-b company serving the design engineering and renewable energy markets, has acquired Electro-Tech-Online, a membership forum for electrical engineers.
Terms of the deal were not released.
The move allows WTWH to expand its electrical engineering audience. Electro-Tech-Online has more than 170,000 registered users.
The company already has EDAboard.com, but between the two, there are only 7,000 duplicated members. Combined, the two forums have 650,000 members and 1.3 million monthly page views.
The audience increase leads to more advertising opportunities, says Marshall Matheson, WTWH Media's executive vice president. "It increases our reach to electrical engineers for greater opportunity from advertisers in that space," he says. "With the forum, there is an overall increase in traffic for ad revenue, topical e-news (opt-in registered users to the site) and technical resources these professionals seek out."
Additionally, Matheson says the more active users from the forum can be invited to contribute technical writing, product reviews and blog posts.
Meet the Author
---