WSJ.com Partners with Bicycling Magazine for Tour de France Coverage

Content-sharing agreement targets prized Wall Street readers, broadens brand rea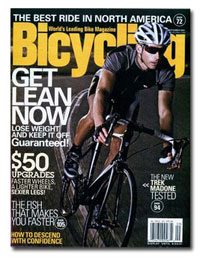 The Tour de France concluded last Sunday and Bicycling editors and writers were pulling double duty to cover it. The magazine partnered with The Wall Street Journal to bolster the newspaper's burgeoning sports coverage by supplying stories, 24 in all, from the Tour to WSJ.com. For its part, Bicycling gets further access to an audience of affluent finance types who are picking up the sport in ever greater numbers.
"[The sport of bicycling] really has become the new golf," says Chris Lambiase, Bicycling's publisher, referring to the rate at which bicycling has been adopted by Wall Street executives. "So I came armed in our first conversation with the demographics of our magazine and the active cyclist, and the evolution that has taken place. It's already a part of our presentation here at Bicycling."
Lambiase, himself a road biking enthusiast, approached The Wall Street Journal on the deal. And while it may be a content sharing agreement—The Journal gets 24 exclusive, stage-by-stage stories from Bicycling—these types of deals always have an audience component. In this case, Bicycling gets direct access to WSJ.com's affluent readership. "That's what it was about this year, extending our reach," says Lambiase. "And we're always looking for more traffic. We saw this as a way to generate more awareness of what we're doing online and to drive traffic to our site."
Lambiase said specific traffic figures had yet to be compiled, but the partnership helped generate a boost in Bicycling.com traffic over same period last year.
Users at Bicycling.com were treated to such bike-geek stats as real-time stage standings, streaming heart rate and cadence data, GPS stage maps, and Google Earth stage previews. Coverage for WSJ.com, while exclusive, was more aligned with that site's reader interest. "We offer them a more mainstream story," says Loren Mooney, who became Bicycling's editor-in-chief in June, "how the race works, subjects that would be interested to them, sponsorship and business-type stories, the ever-present doping issues, and technology."
For this year's Tour, Saab was the primary sponsor, buying up premium roadblock positioning. Yet Lambiase says this first partnership was about content and audience. Business opportunities for the two publishers will open up further down the road.
"Their audience is our audience," says Lambiase. "If you look at MRI, the profile of the cycling reader is in line with business publications and financial service magazines. We're talking about $5,000 to $10,000 bicycles. The Bicycling reader on average owns a $5,000 bicycle. To me, the appeal was we're getting information from our magazine to the right kind of people."
Meet the Author
---