Written By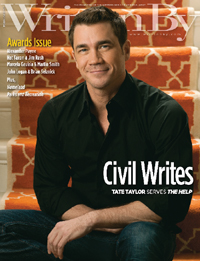 Eddie Winner: Best Full Issue, Association/Non-Profit/B-to-B
Written By is the official publication of the Writers Guild of America. As such, its editorial mission is to tell the stories around the craft of writing for the entertainment business, which in today's media world is a growing list that includes not just the standards like movies and television, but video games, which are becoming more cinematic in their own right.
"We celebrate the professional writer in the entertainment business," says Richard Stayton, the magazine's editor-in-chief. "We celebrate them as the movie stars, that they are doing the work without which there wouldn't be an entertainment business."
The magazine is published at least bimonthly and sometimes seven times per year. Stayton says he's given wide latitude in developing content for the title. "It's an insider's perspective," he continues. "Pros talking to pros, but it's the best way, I believe, for people to break into the business to learn."
Content ranges from writer profiles to service pieces—all designed to spotlight successful writers as well as show how they perform their craft.
The issue that was submitted for the Eddie & Ozzie awards was Written By's awards issue. The issue is distributed to the guests during the Writers Guild's annual awards banquet and shows the greatest variety of content, featuring the entire cross-section of Guild members.
The magazine's circulation tops out at about 15,000 and is supported half by advertising and half by the Guild.
Meet the Author
---