'Worst of Times are Best of Times to Launch Magazines'

Despite a difficult print environment, a wave of magazines are set to launch.
While new magazine launches were few and far between in the first half of 2009, the second half looks more promising. One notable story in recent weeks was the launch of experiential travel magazine Afar. The San Francisco-based title's 96-page premier issue hit newsstands on August 18 with 35 advertisers, many of which hailed from the high-end and luxury markets.
But Afar, while arguably one of the more high-profile launches so far this year, only scratches the surface of a wave of emerging magazines. In August, there was a flurry of launch announcements for print titles. Early numbers pegged the tally at 75, according to University of Mississippi professor Samir "Mr. Magazine" Husni, who tracks magazine launches. That's more than double the amount of launches in August last year (48) and higher than in August 2007 (61).
"I have always said that the worst of times are the best of times to
launch a new magazine," says University of Mississippi professor Samir "Mr. Magazine"
Husni. "People have recognized that all the hopes that have
been placed on a free content delivery on the Web as a business model
has failed and the ad money did not materialize. People are still
interested in print if you give them a necessary, sufficient and
relevant product for that specific audience."
Roll Call
The launch announcements continued to roll into early September. Emmaus, Pennsylvania-based Rodale Inc. said it was planning to extend its Men's Health and Women's Health brands by launching a title called Children's Health. The special newsstand-only issue, which will carry an initial print run of 750,000, hit store shelves on September 15. The 112-page issue carried a $5.99 cover price and featured 15 advertising pages.
Rodale is said to be taking a "try-it-and-see" approach with Children's Health, indicating that Rodale does not necessarily have specific plans to publish the magazine regularly.
Meanwhile, American Media Inc. announced a partnership with Ultimate Fighting Championship to formally launch a bi-monthly national magazine called UFC. AMI had produced a commemorative issue for UFC that it said "outperformed all expectations from advertiser reception to newsstand sales." The magazine is expected to hit newsstands in November.
"The UFC is the fastest-growing sport in the country with men 18 to 34 years old," says AMI CEO David Pecker. "We were the first mainstream publisher to recognize the sport and feature their fighters on our covers which, by the way, resulted in many of our best selling issues on the newsstand. And the fact is that the premiere issue of the UFC was oversold for advertising—ad pages were 51 percent better than budget. That's a pretty good indicator that the ad community buys into the concept."
While details of the digital side of the initiative are being worked out, Pecker says the magazine will have a dedicated presence on UFC's main Web site and that UFC is "definitely" considering mobile applications as part of its overall plan, too.
New Titles, Large and Small
Regional publisher 944 Media will launch editions in Atlanta and Detroit in October (although it was shutting down Six Degrees, a monthly culture and style magazine it acquired this spring, in those cities). Kevin Thomas, publisher of Maine Home & Design, relaunched Port City Life as Maine in August.
Expanding its portfolio of health and wellness magazines, MPA Media will launch Dynamic Chiropractic PracticeINSIGHTS in January. The monthly print title will carry a circulation of 40,000.
New business-to-buisness titles are popping up as well. Penton Media, which ceased publication of Metal Producing & Processing with the August issue, says it will launch Energy Efficiency & Technology. Targeting engineers who develop and use state-of-the-art energy systems, the trade title will carry a controlled circulation of 25,000 and publish three times in 2009 and six times in 2010.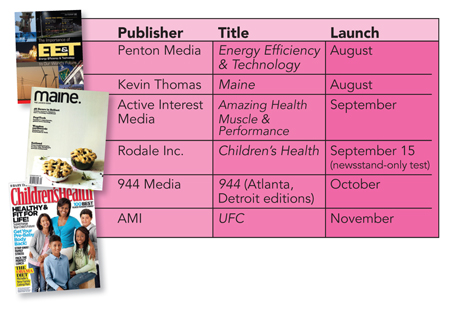 Meet the Author
---