Worst Anniversary Party Ever? Atlantic Monthly Celebrates 150th in New York

How not to throw a magazine party.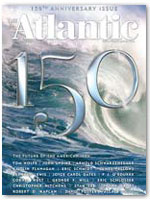 The Atlantic Monthly celebrated its 150th anniversary with a party in New York earlier this month. It picked the scholarly Kimmel Center at New York University as the venue. The venue had a stage. Instead of, say, using the stage for a panel or discussion, it served for the bulk of the evening as an awkward VIP area, where the important guests like Arianna Huffington, Moby and Mayor Bloomberg partied while 600 or so readers (a.k.a N.I.P.s) were forced to watch. It's admirable that David Bradley and a magazine like the Atlantic would want to include its readers. But not like this, man. Give everyone access, find another venue or throw two parties—one for the V.I.P.s and one for the rest of the dregs.
Gawker has the damning video …
Meet the Author
---