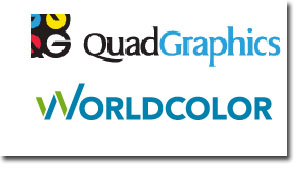 Magazine printer Worldcolor today reported a net loss of $29 million during the first quarter of 2010, compared to a loss of $126 million during the same period last year. The company generated $692 million in revenue during the first period, down about 8 percent from $752 million last year.
Despite the lower profits and revenues, Worldcolor says it more than doubled its adjusted EBITDA during the first quarter to $79 million, versus $36 million during the same period in 2009 (it is the third consecutive quarter of EBITDA growth). The company attributes the value boost to cost containment and reduction initiatives which saw workforce reductions and the closing of six facilities in North America during the first three months of the year. Worldcolor says its cost of sales decreased 16 percent.
"It [EBITDA growth] exceeded our own expectations, " chairman and CEO Mark Angelson said during Worldcolor's earnings call. "This is not as high as we would like, but it is a move in the right direction."
Worldcolor reported at total of $45 million in Impairment of assets, restructuring and other charges (IAROC), due mainly to severance and the facilities closures. The company reported free cash flow of $98 million.
Also on the earnings call was Quad/Graphic s CEO Joel Quadracci and CFO John Fowler. The Sussex, Wisconsin-based printer agreed to acquire Worldcolor earlier this year in a stock exchange that will have Worldcolor shareholders receiving approximately 40 percent of the outstanding shares of Quad/Graphics at closing and Quad/Graphics shareholders holding roughly 60 percent.
Quadracci said the main goal is to get the "synergies" between Worldcolor and Quad on schedule while controlling costs and creating a smooth transition for employees. "We've received good customer reaction and support for the deal," he said. "The integration is going well and is consistent with antitrust laws."
"We're very comfortable with progress," Angelson said, indicating that the deal is anticipated to close by "early summer."