A Working Partnership

Ingram Micro and Everything Channel go beyond the typical client relationship.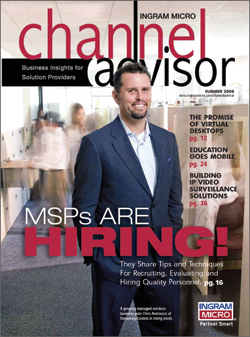 Project: Channel Advisor
Launched: 2005
Circulation: 45,000
Objective: To identify Ingram Micro Channel with emerging technologies and reinforce its reputation as a premiere distributor.
The typical custom program consists of a client who pays the bills and a publisher who executes the program, from editorial to design to delivery. However, client Ingram Micro and publisher Everything Channel (one of the four new companies spun out from the old CMP), have developed a closer working relationship in which Everything Channel oversees editorial while Ingram Micro sells both print and Web advertising around the project.
Ingram is a premiere partner community venture tech network and the magazine—Ingram Micro Channel Advisor—originally served as the voice of that community, which consisted of Ingram's 400 or so top customers. "We decided to elevate the magazine to be the voice of our whole Ingram Micro partner base," says Jennifer Baer Anaya, vice president of marketing at Ingram and also publisher of Ingram Micro Channel Advisor.
The partners have developed a multimedia approach—including print, online, e-mail and direct mail—to help Ingram identify with hot new technologies and reinforce its reputation as a premiere distributor and a thought leader.
Ingram Micro Channel Advisor is a quarterly magazine sporting a 48-page folio and 45,000 readers. The magazine offers a trend view, including success stories from customers, growth trends in IT, new business applications, how-to articles and new products.
While a four-person staff from Everything Channel oversees the magazine, Ingram Micro is more directly involved with the Web site and is currently working on building additional community features including RSS feeds and user generated content. "We will develop the editorial calendar jointly and make recommendations of what we should cover," says Patricia Schnaidt, director of operations, Ingram Micro Channel Advisor. "We'll do longer features while the Ingram folks will do shorter, newsy pieces including the letter from the editor, a couple of pages of Ingram news and a sales column."
Content is edited on the Everything Channel side and design and layout is handled by an in-house Everything Channel team. "Our marketing/graphics team oversees the project so we can make sure this is really a unique editorial experience on its own, it's not just a cheap advertising piece," says Everything Channel sales managing director Adelaida Reilly.
"Bigger Than Advertising"
While most custom titles are focused on the sponsor's brand, Ingram Micro Channel Advisor is ad-supported, with the Ingram sales team selling ads in both the print and online components of the program.
"Customers need to target their messages," says Baer Anaya. "We see it as pretty significant revenue and it allows us to offer this unique voice into Ingram Micro. It's bigger than advertising or advertorials. There is a nice layering affect with being able to reach the community through the Web and then a more targeted group through the magazine."
Ingram pays Everything Channel a fee for the custom work but ad sales revenue goes directly to Ingram.
Meet the Author
---