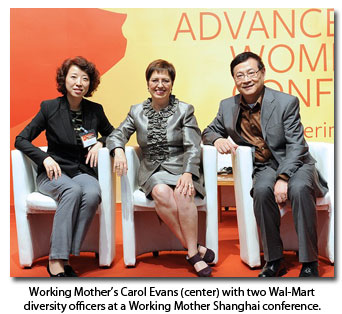 With events making up at least a third of its revenue, Working Mother, part of Bonnier Corporation's Working Mother Network, is expanding its business internationally to include both b-to-b and b-to-c events, and new printed products in the Middle East.
The magazine has held numerous events in the United States and a handful overseas throughout the years. As economies and markets become more global, the company will now look to expand its conference series more aggressively in Brazil, in addition to China and India—even extending its print brands in Turkey and Indonesia.
"We're undertaking the global expansion of our conference business, and expanding our whole company globally, because we feel very strongly that we can bring a message about U.S. ideals of work and family balance, while also learning from women in other countries," says Carol Evans, president and founder of Working Mother. "We've been pushed into this global work that we do by our clients—our customers, who are mostly multi-national and engaged in our U.S. conference work, asked if we would take our conferences global."
Evans says that while Working Mother has had a few international events over the last decade, many of the brand's domestic sponsors have large employee bases in other nations and were looking to reach that market.
"They wanted us to bring our conferences to women outside the U.S. as we do for their employees inside the U.S." she says. "It's challenging to go global, but I can't think of anything more important that we've done in the past 10 years than meeting this customer need."
Working Mother's b-to-b event, the Working Mother Global Advancement of Women Conference, is sponsored by Intel, Dell, PepsiCo, Hewlett Packard, General Motors and others. It is designed to serve companies that want to help their female employees balance work and home, so the strategy for the conference took on a different approach when compared with the brand's U.S. events, which look to directly target the brand's core bases of working mothers.
"We have about 300 to 400 women who are being sent by their companies," says Evans. "We're not reaching out to women in Brazil to come on their own but we're reaching out to companies in the United States who have large offices or headquarters in Brazil and have a lot of people working in the country. We're asking them to send their employees."
In comparison, Working Mother's b-to-c Brazilian conference, the I-NAFE (National Association for Female Executives) Women Leading Business Summit, is sponsored by Avon and designed to attract female entrepreneurs, business owners and those in government positions within Brazil. Evans expects the events to draw a combined audience of over 700 women.
"We're also launching our magazine in two countries this year—Turkey and Indonesia," says Evans. "They're both Muslim countries so it's interesting that Working Mother is going into two countries as a magazine, and that both of those two countries that have stepped forward and said they want Working Mother are primarily Muslim nations."
Evans adds that these global conferences are not used to grow the brand's U.S. following or presence, but to institutionally grow its global reach to serve its clients.
"Working Mother Media's primary customers are major, global and multi-national organizations that use us to help their employees," says Evans. "We have a b-to-b and b-to-c platform—our magazine goes to consumers and we sell an enormous amount of consumer advertising to support the magazine and reach our 2 million readers. However, we also have a business-to-business part of our model, which is helping companies with their employee relations and supporting women and people of color with all aspects of work-life-balance. The events make a huge difference—when we have these global companies supporting our efforts outside of the U.S. it provides a deeper customer relationship and we can provide more solutions to them when compared with most media companies they work with anywhere in the world."