This story first appears on FOLIO: sister publication, minonline.

Like the overall magazine industry and the U.S. economy as a whole, the women's beauty/fashion sector experienced very tough times in 2009 and 2010, and since then the positives have largely come in dribs and drabs. Although we cannot report that March 2012 produced a universal breakthrough, there are several examples of—to borrow the famous advertising slogan—Baby, look at us now.
Here are three: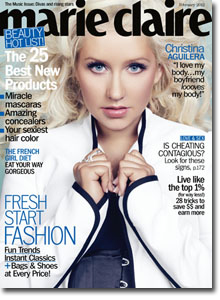 1. InStyle (+12.7 percent versus March 2011), with publisher (since February 2009) Connie Anne Phillips telling min that the 347 ad-page issue is not only the largest for the month in IS's soon-to-be 18-year history, but in the last three Marches alone, business has jumped by 154 ad pages (+79.8 percent).
2. W (+25.2 percent), with vp/publisher (since March 2005) Nina Lawrence saying that the 204 ad-page issue is further evidence that "we are accelerating on all fronts with our strongest first-quarter ever [+17 percent]." Credit the since-September 2010 reign of editor-in-chief Stefano Tonchi for engineering the momentum. Saks Fifth Avenue is among the major advertisers, and its presence will be further pronounced as being the retail partner with W's 40th anniversary issue in November.
3. Marie Claire (+32.3 percent), with vp/publisher (since December 2009) Nancy Cardone matching Phillips in reporting that the issue's 181 ad pages set an 18-year record for the month. Cardone was among the publishers who built March with new business along with "bigger commitments and units from advertisers who have been with us for a long time." Among the "game-changers" is a "10-page exclusive unit from a luxury company" that will be revealed with the release of the issue in mid-February.