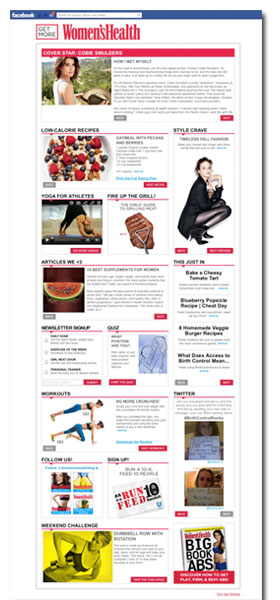 On the heels of a social summer, Rodale's Women's Health is looking to get even more engagement momentum through a variety of community outreach strategies aimed at cultivating its audiences.
About 18 percent of the brand's monthly Web traffic now comes from Facebook, Twitter and Pinterest. The brand's Olympic Twitter Takeover campaign, which took place in July, generated over 30 million Twitter impressions. Additionally, WomensHealthMag.com has recently seen a 171 percent jump in referral traffic from Pinterest.
"We really want to give something special to our social community because we feel like it's an important part of the direction that Women's Health is going in," says Sean Bumgarner, Rodale's interactive design director. "We've seen tremendous growth on all of our social outlets over the last year, and especially the last six months."
Bumgarner says that exclusive content will be delivered to its Facebook community via a new social reader app, called Get More Women's Health, that, once enabled, can be customized so readers can pick and choose what information is relevant to them, and ultimately what they would like to consume.
"It's a Facebook articles page that allows you to read information from the website right there in Facebook in an essentially ad-free format," says Bumgarner. "It's similar to the social reader for Washington Post. It's connecting social media to news articles—some are updated every day and some a couple times a month. We've embedded it with lots of extra information."
There are bonus workouts integrated into the social reading app in addition to a body mass index calculator, a health advice column and exclusive videos, among other things. Bumgarner says content that might have previously been put behind a pay-wall, or not always readily available, will be integrated for the brand's Facebook fans. While the content is hosted within Facebook itself, some articles or videos link directly back to the brand's own website, driving traffic from the social site to its ad-supported Web product.
The move to have this exclusive content available on social platforms comes from audience habits.
"Changing a diet or changing your lifestyle, sometimes those things are more easily accomplished when you feel like you're doing them with other people," says Bumgarner. "That's the real power of this social community out there—it unlocks something new and dynamic for a Women's Health reader that is looking to improve their life. In a way, it's an ability to connect with people around you and decide to make those improvements together. The idea of social media can become relatively meaningful."
Bucking a Paid Content Model

In addition to offering free content to Facebook fans, Rodale is also giving individuals the opportunity to digitally read some of its magazine free of charge, too. As tablets grow increasingly popular, publishers have breathed a sigh of relief knowing that individuals will purchase content digitally, a ship that seemingly sailed as the Internet developed.
Yet, starting with its October issue, Women's Health will enable iPad subscribers to share articles with non-subscribers—even those who receive an article without a tablet will still have the tablet reading experience regardless of the device.
"We're using a kind of new technology that's part of the Adobe Digital Publishing Suite," says Bumgarner. "We think it's great for Women's Health because we have an amazingly social audience, and we can share what we're doing in the tablet world with other people out there. They can get a taste of the tablet experience and as a brand it allows us to bring together the tablet edition, print content and social media."
If someone downloads the October Women's Health edition, an individual can share a story across her own personal social media channels by clicking a button within the iPad edition that has been incorporated by Adobe.
"The page posted looks exactly like the tablet experience," adds Bumgarner. "If there's a video on that page or a 360 degree animation, all of those things are included and in the same dimensions of the tablet page. It will feel like a tablet, being very vertical and having the same interactivity."
Once an individual views a shared tablet page, they have the ability to click to the table of contents and read one more article. If clicking for a third, a prompt to become a customer appears.
According to the Audit Bureau of Circulation's most recent Fas-Fax report for the period ending June 30, 2012, Women's Health had a total paid, verified and analyzed non-paid circulation of over 1.6 million, selling about 300,000 copies at newsstands and almost 51,500 digital replicas.
"We're proud of what we're doing with the tablet and we want to get it to the women's audience," says Bumgarner. "We know that not everyone has a tablet, but we do want to share what we're doing. We thought this would be a great way to take the initiative and move it out into the world."