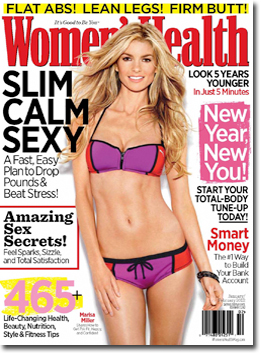 In another move marking the continuing courtship between magazine publishing and e-commerce, Rodale's Women's Health has teamed up with online retailer Gilt Groupe to curate an online sale to launch on January 6.
"It's a new way to reach readers through a popular digital platform," says the magazine's editor- in-chief Michele Promaulayko. "The beginning of the new year is a time of high engagement for the women who look to us to provide them with tools and information that will help them take control of their fitness and beauty routines."
The online sale, part of Gilt's Clean Start campaign, will showcase items chosen by the magazine's editors as well as links to purchase Women's Health subscriptions and the Women's Health Diet book. Gilt will also feature exclusive Women's Health content, such as tips from Promaulayko.
The magazine will not receive a share of revenue from sold items but will promote the sale and its brand through social media, including a one-hour live chat with Promaulayko on the Gilt Facebook page and through Twitter. The sale will be housed on the Gilt women's site homepage through midnight on January 9 and will then be moved to Gilt's larger online shop for continued sale throughout the month.
"The advantage [for Gilt] is the tremendous authority and content this brings to our members," says Gilt.com's editorial director Melissa Liebling-Goldberg. "I think they really appreciate that it gives a context to what these products are."
Gilt has partnered with other magazines, including Self, Vogue and GQ. "We do love the magazine partners, when they are appropriate," says Liebling-Goldberg.
The E-Commerce Uptake
Not surprisingly at this point, e-commerce picked up a good deal of steam among publishers in 2011 and is taking shape as a major area of focus for 2012.
In July 2011, enthusiast publisher F+W Media opened its 26th e-commerce store and cited a 50 percent increase in e-commerce revenues. "We expect it will be our second largest business—if not the largest—by 2014," CEO David Nussbaum told FOLIO: at the time.
Last month, b-to-b publisher Inc. magazine partnered with daily deals service RapidBuyr to launch a new e-commerce section for its website.
The month before, Martha Stewart Living Omnimedia signed on with OpenSky, a platform previously adopted by Dwell.
In May, New York magazine launched New York Deals, a curated round-up of purchasing options, with several retail partners including the Gilt City site.
In June, Hearst Digital Media partnered with interactive image company Pixazza Inc. to enhance its e-commerce platforms for Redbook and House Beautiful. Hearst Magazines president David Carey said at the Bloomberg Media Summit in March, "If you talk to the people at [online fashion retailer] Net-A-Porter or the people at Gilt, they say they're increasingly commerce companies moving into content, and I think what you're going to find is content companies are going to move into commerce." For Esquire, the company partnered with J.C. Penney to launch virtual storefront CLAD.
The content/e-commerce crossover can also be seen in Zappos' recent launch of its digital magazine for the iPad.