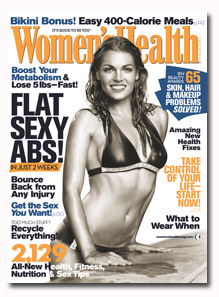 Women's Health has joined a waning group of titles requiring users to pay for content online, launching a subscription-based fitness and nutrition site called Fit Coach.
Users pay $3.50 per week to be members, following a free trial month, and sign up on a monthly basis following an initial three month subscription. The site does not contain ads yet, though the company is exploring sponsorship opportunities.
The program tracks and charts members' progress with fitness and nutrition goals, which are based on customizable workouts and meal plans. It also features "food diaries", a calorie tracker and social networking tools like message boards which allow members to interact with one another.
On the print side, Women's Health recently announced its fifth rate base increase—a 23 percent hike, from 1.1 million to 1.35 million—since the magazine's inception in 2005.