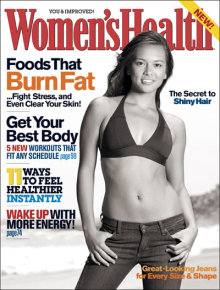 A week after the announcement of a number of management changes at parent company Rodale, Women's Health has announced it will raise its rate base by 23 percent—from 1.1 to 1.35 million—starting with its January/February 2009 issue.
This rate base hike is the magazine's fifth since its launch in October 2005. According to the company, the title has seen a 47 percent increase in total paid circulation over the same period last year. Ad pages through June total 375 and are up 33 percent over the same period last year. According to first quarter Publishers Information Bureau figures, ad revenue reached $15.5 million, a 133 percent spike over the same period last year.
David Zinczenko, Men's Health editor-in-chief and Best Life editorial director, is taking on the additional role of editorial director of Women's Health, it was announced last week.
Rodale also promoted executive vice president Gregg Michaelson to executive vice president of customer marketing and Bicycling editor-in-chief Steve Madden to vice president and editorial director of Rodale International. Executive editor Lauren Mooney will take over for Madden as editor-in-chief.