Women's Health Founding Editor to Step Down

Tina Johnson: I'm looking ahead to new challenges and opportunities.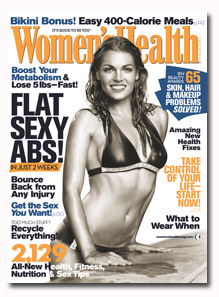 Women's Health magazine publisher Rodale today announced that vice president and founding editor-in-chief Tina Johnson is leaving the magazine.
Johnson, in a statement, said she is looking ahead to new challenges and opportunities. "Four years ago, I took on a challenge that has proven successful beyond everyone's best expectations," Johnson said. "Launching the magazine, companion online site, and this entirely new brand and leading it on its meteoric rise through this incredibly competitive market has been a terrific experience-and an unprecedented achievement."
The magazine continued to see growth over the first half of 2008 with ad pages up 32.7 percent and estimated ad revenue increased more than 100 percent in comparison to the same period last year, according to the most recent Publishers Information Bureau Figures. Single copy sales are up 11 percent, according to the Audit Bureau of Circulations.
In June, Rodale announced a number of management changes—one of which gave Men's Health editor-in-chief and Best Life editorial director David Zinczenko the added responsibility of being editorial director of Women's Health. Whether or not that move had anything to do with Johnson's departure was not immediately clear. A Rodale spokesperson declined to comment.
Rodale will look for Johnson's replacement over the next few months, the company said.
A New Look, Too
Rodale today also announced it is making a series of art and editorial enhancements at Women's Health. The first noticeable change, it says, will be "W" star Elizabeth Banks as the magazine's first-ever celebrity to appear on the cover (the October issue).
"We are moving quickly to expand the Women's Health brand's global platform, and a celebrity cover is just the beginning," Zinczenko said in the statement. "Men's Health is already the world's leading men's magazine. We are excited to implement the same global growth strategy for Women's Heath, too."
Rodale also plans to increase the magazine's rate base by 250,000 copies to 1,350,000 in January, the company said.
Meet the Author
---