WIRED Magazine, Marketplace Events Introduce New B-to-C WIRED Live Expo

Educational programming, tradeshow and entertainment combine for new launch.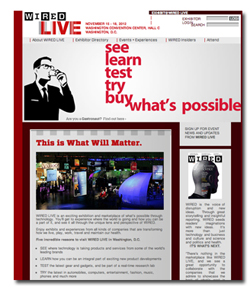 Conde Nast's WIRED magazine is growing its event portfolio with the WIRED Live Expo, set to launch this fall. The new event, which is being produced by Marketplace Events, will be its first sizeable new launch in the face-to-face market in recent years.
"From a face-to-face perspective, this is an area where WIRED wants to be," says Tom Baugh, CEO of Marketplace Events. "They want to be certain that they have a commanding presence in the face-to-face event marketing arena. That's what this is about. The event itself will pull in a lot of the different content from their magazine and digital products. To translate that in to a face-to-face event is really something they're looking forward to doing on a consistent and strategic basis."
WIRED had organized its annual Nextfest, which was described as a "festival of innovative products and technologies," from 2004 to 2008. Additionally, the publication has an ecosystem of smaller events that they produce annually—a WIRED Cafe at International CES, the WIRED Business Conference, a WIRED Cafe at ComiCon and a WIRED Pop-up Shop held in New York City's Times Square. This new expo will be part tradeshow, part conference and part festival.
"They produced Nextfest, which ran for five years, and it was very successful with 70,000 consumers coming out," says Ryan Roth, show director for the WIRED Live Expo. "What Nextfest was missing, however, was a retail sales component. We know that consumers who pay to get into a show want to buy and leave with merchandise. Nextfest did not offer that retail sales opportunity."
According to the event's website, the WIRED Live Expo is designed to be a show of what's next in the world of science, technology, music, fashion, cars, space travel, entertainment, computers, mobile phones and more. Marketplace says the company has been having extensive content development sessions with the WIRED editorial and publishing teams to make sure the essence of the magazine is translated into the expo.
"WIRED tries to get out ahead of things—the WIRED reader wants to know, 'What's next, what's coming, what might I be interested in learning more about?'" says Baugh. "When you put together this type of event you're trying to be anticipatory but also trying to make sure anything on the show floor will be of interest to people."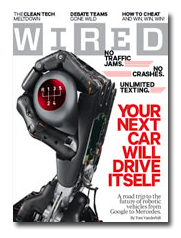 One example of a pavilion that is being featured at the WIRED Live Expo is the "Kitchen of the Future," which is designed to show everything about food preparation, cooking and storage of our food in the future. It will include live demonstrations, cooking classes, cook-offs and more, all with the latest technology. A "MAKER Zone," will also be on site, which is being billed as a complete ecosystem of exhibits and experiences for tinkerers, deconstructers and master builders. NASA and TEDx will also be coming together to discuss the next frontier of space exploration in educational programming.
"The event will be a hybrid between the WIRED Pop-Up Shop, which is kind of like a gallery meets retail, and Nextfest, which was mainly R&D experts speaking from their respective companies," says Roth. "It's a consumer show, and we're defining the audience internally as 'prosumer,' because we expect a lot of the folks in attendance to work across these different industries."
The November schedule of the show, adds Roth, was hand picked so exhibitors and sponsors can display new products in time for the holiday seasons. Baugh adds that the exhibitors and sponsors that will be selected to participate are highly curated to synch up with the main mission WIRED as a brand strives to capture.
"This event will be the gateway to expose people to the next generation—to the things that are coming and will be really fascinating," says Baugh. "The event will show things that will be impactful, things that can change people's lives and really drive the economy. In an era where you hear so much negativity about the global economy, you look at the type of companies we're talking to and it reinvigorates our enthusiasm for the economy and the tremendous thinking and ingenuity that's going on."
The WIRED Live Expo is expected to draw 50,000 attendees to the Washington, D.C. Convention Center this November 15-18. In addition to the tradeshow and exhibit pavilions, attendees will have the opportunity enjoy live programming like keynotes, conversations, workshops, and concerts.
"The value that Conde Nast is placing on face-to-face marketing is invigorating for us," says Baugh. "This confirms that events are a difficult medium to get right. If you look at WIRED or any other prominent brand, they need to find a way to extend their brand. What is unique about WIRED is this brand tells things in a way no one else does, and in a format that no one else does. They have built this culture around thinking, doing and explaining things differently. It is an immense but enthralling challenge to say let's take that mindset and filter it through a face-to-face context. It's a hell of a project we're working on."
Meet the Author
---