UPDATE: WIRED Launches Second Event in Two Months

225 attendees to come to invite-only WIRED Health Conference.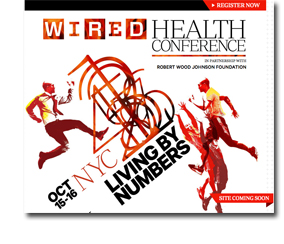 For the second time since May, Condé Nast's WIRED is growing deeper into the event sector. The brand is launching the WIRED Health Conference: Living By Numbers, which will be held Oct. 15-16 in New York City. Exactly one month later, its b-to-c show, WIRED Live, will kick off in
Washington, D.C. to feature what's next in the world of science,
technology, music, fashion, cars, space travel, entertainment,
computers, mobile phones and more.
UPDATE 7/27: FOLIO: was reached by WIRED representatives, who
indicated that the WIRED Live Expo has been cancelled. More information
to come in a separate story.
The WIRED Live Expo, which was being produced by Marketplace Events, would have been the title's first sizeable new launch in the face-to-face market in recent years, with 50,000 attendees expected to attend. In contrast, the Health Conference is designed as an invitation-only event, bringing together about 225 thought-leaders and
innovators across the worlds of healthcare, science and technology.
UPDATE 7/30: According to Tom Baugh, CEO of Marketplace Events, committment from exhibitors and sponsors fell short, a key reason why the WIRED Live Expo was cancelled. "We felt strongly, as did WIRED, that if we couldn't have assurances five months out to make sure this thing was really going to be what everyone expected it to be, then we would be doing risk to WIRED and Marketplace Events. Frankly, we were not willing to take a chance putting out a substandard event or something that really didn't reflect on them well," says Baugh. FOLIO: sister magazine, EXPO, has the full story here.
WIRED is launching its Health Conference because it ties into the brand's mission—the event will explore how information technology is revolutionizing the health and medical industries.  
In conjunction with the conference, WIRED is launching a health vertical on Wired.com, with dedicated health-tech-related features and short-form articles. The vertical comes as part of an ongoing site redesign, joining other recently unveiled verticals like "WIRED Design" and "WIRED Business," and the revamped "Geek Dad" "Raw Files" and "Threat Level" verticals.
"We've always gotten great reader response for the many 'quantified self' type stories and packages we've done over the years and, as we did with the Business Conference and our other marquee events, we let the consumer desire for and response to content dictate the business strategy," says Howard Mittan, vice president and publisher of WIRED. "A health-focused conference is something we've been talking about doing for a while and fortunately we found a partner in the Robert Wood Johnson Foundation that helped us make it a reality."                –
The brand has a history in organizing live events. WIRED ran its annual Nextfest, which was described as a "festival of innovative products and technologies," from 2004 to 2008. Additionally, the publication has an ecosystem of smaller events that they produce annually—WIRED Cafés at International CES and ComiCon, the WIRED Business Conference and a WIRED Pop-up Shop held in New York City's Times Square. This Health expo will be part tradeshow, part conference and part festival.
Meet the Author
---