Wired Debunks Santa

Tech editors take on the myth.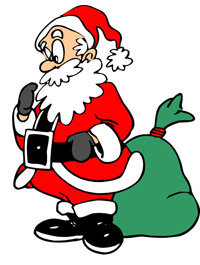 Leave it to Wired to ruin Christmas.
In the December issue the editors call out Santa Claus in a three-page infographic. They spoke with business process consultants, surveillance experts, shipping professionals and even a former Navy SEAL to find out how the jolly man from the North Pole would really operate, without invoking supernatural powers.
Some of the unofficial findings:
Santa's elves have names like Mattel and Hasbro. Santa apparently sources production to a number of companies to mask the scope of his operation.
Santa knows if you've been naughty or nice. He taps into National Security Agency spy satellites to track bullies, vandals and other mischievous youngsters.
Forget the reindeer. In the U.S. alone Santa must hire an army of 2.7 million people (elves?) to deliver 34 million gifts in one night.
It's a fun piece that should go nicely alongside the lump of coal nonbelievers will find under the tree next week.
Meet the Author
---