Wired Celebrates 15 Years in Style

Tech, magazine industry elite turn out for Condé Nast rooftop bash.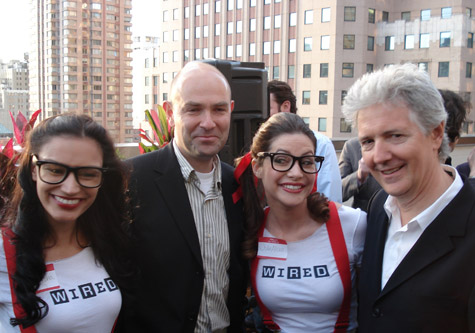 Pictured, left to right: Megan Asha, Wired editor Chris Anderson, Star magazine's Julia Allison and Wired founder Loius Rossetto
SEE RELATED SLIDESHOW: Wired's 15th Anniversary Party
Despite the blustery evening, nearly 350 people gathered at midtown Manhattan's recently opened rooftop oasis Highbar last night for Wired magazine's 15th anniversary party.
The usual Condé Nasters headlined the party, including Wired editor Chris Anderson, publisher Chris Mitchell and darling super-group publisher David Carey. In addition to the celebration at-hand, Mitchell noted CondéNet's acquisition of tech site Ars Technica and the relaunch of popular Web developer tutorial site Webmonkey.
Notable attendees from around the world of media were PBS' Charlie Rose, ASME executive director Marlene Kahan, New York Times columnist David Carr, Advertising Age editor Jonah Bloom, Mediabistro's Laurel Touby, Noah Davis, Rebecca Fox and Glynnis MacNicol, BusinessWeek's Jon Fine, Curbed's Lockhart Steele, Flavorpill's Sacha Lewis, Nerve founder Rufus Griscom and newly-installed EW.com managing editor Cyndi Stivers, who stood on a table during Anderson's speech.
Not surprisingly (given
her stalking of Anderson at the National Magazine Awards) Star magazine editor-at-large Julia Allison showed up with a friend costumed as Wired "geeks."
Go figure.
Meet the Author
---