Winter Sports Title Comes Out of Hibernation…Again

High Country Media launches third incarnation in crowded enthusiast market.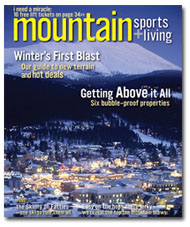 Boulder publishing executive Jamie Pentz announced last week plans to offer print, online media and other products focused on skiing and snowboarding under the name High Country Media. The launch brings back a brand that has already been through two previous identities.
Pentz, former group publisher of Mountain Sports Media (now Bonnier Mountain Group), registered the trademark for Mountain Sports + Living after previous owner, president and CEO of Miller Publishing, Robert Miller, tipped off Pentz that he was abandoning it.
Miller acquired the title in 1997 from The New York Times Co. as Snow Country, relaunching it in spring 1998 as Mountain Sports + Living (with a circ of 200,000). It ceased publication in 2000.
Prior to Miller, NYT Co. had launched Snow Country in 1968 only to put it into a two-decade-long hibernation a year later. The title didn't reemerge until 1988.
The acquisition cost, Pentz told FOLIO:, was no more than "legal costs and registration costs for the mark," which didn't include any content. In addition to the trademark, High Country Media also registered mountainsportsliving.com independently, and will offer a direct-to-consumer membership club (MtnAccess.com) and a partnership to run online operations for the Web site and snow report provider SnoCountry and SnoCountry.com scheduled for September.
Privately-owned High Country Media, founded this past February, will print Mountain Sports + Living on a quarterly basis with an initial circ of 125,000 beginning in September.
Pentz told FOLIO: that the title's previous struggles were due to it being "ahead of its time." This third attempt comes at a time when resorts are "more focused on delivering a full mountain experience."
High Country Media remains optimistic about this launch due to its model, which, said Pentz, requires fewer print issues and lower out-of-pocket costs across digital, print, broadcast and insider's club. "It's a totally new model in this space," he said. "We've stripped away all the overhead and are focused on connecting consumers with the brands beyond an image ad. We are offering a tangible ROI and delivering an extremely focused and targeted audience, so there is little or no waste, which translates to a more efficient buy for our partners."
Meet the Author
---