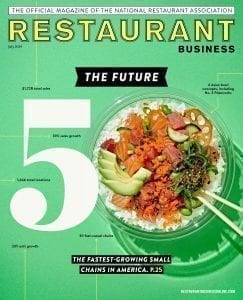 Wary of shifting marketing budgets and rising production costs, publishers across the magazine industry have spent the past few years evaluating ways to reconcile difficult financial realities without sacrificing the print foundations that have anchored their brands for decades.
In Chicago, Winsight Media and one of its flagship titles, Restaurant Business, which traces its roots all the way back to 1902, is no exception.
While the magazine remains among the largest-circulation trade titles in its industry, Winsight says unique visitors to RB's website more than doubled in 2019 to around 450,000 per month, on average.
"Our boom in audience is the result of a combination of strategic initiatives," says Winsight's chief digital officer, Tara Tesimu. "We're an incredibly data-driven culture, so we're always looking at what content will most appeal to our audience. Our editorial team is a powerhouse at understanding and engaging with their audience."
Looking to capitalize on the brand's online growth, as well as relatively recent acquisitions such as the food industry market research firm Technomic in 2015 and the annual National Restaurant Association Show in 2018, the company opened 2020 by taking the dramatic step of reducing the formerly monthly magazine's print frequency by half and realigning its cross-platform strategy for the year around six, two-month-long "content cycles."
Focused around singular themes—"Food/Menu," "Leadership," "Future/Tech"—each content cycle will include a print magazine issue with a corresponding cover story, two additional feature stories and editorial list, as well as a separate online feature, a themed podcast and at least one live event or conference.
"Operator goals and marketer goals were becoming platform-agnostic," says Chris Keating, Winsight's group president of restaurant media and events. "Event sponsorships, digital media, print advertising—they were all different ways of reaching the same audience with different marketing goals. Since we were the only media player with a strong digital presence and an extensive event portfolio, we were in a unique position to execute on this vision."
Running from March 1 to April 30, the "Leadership" cycle, for example, will feature a cover story on 20 emerging leaders in the restaurant industry; a profile on the "Restaurant Leader of the Year;" a data-driven franchise, "America's Favorite Chains;" an updated leadership-themed eBook which will be made available online; multiple podcasts featuring subjects of the aforementioned print features; and the annual Restaurant Leadership Conference, held March 22-25, which will include programming specifically tied back to the RB brand.
The idea is to fully surround a given topic with the full breadth of Winsight's offerings and to get one, exclusive sponsor to support each cycle. A typical package includes an eight-page gatefold in the print issue, five ad pages in other issues during the year, social media activations, newsletter, podcast and webinar sponsorships and four branded articles produced by Winsight's content studio.
"Marketers crave an integrated campaign," adds Tesimu. "They want each piece to support and complement the other. Our content cycles reflect that integration. We view success for our partners holistically, and we reach the audience on every platform—magazines, digital and live."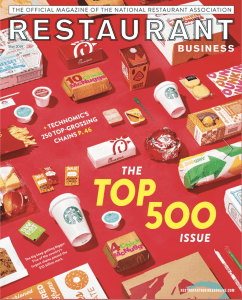 Despite the reduction in frequency, Keating says the move isn't about phasing out RB's print edition, and that the new bimonthly product will boast a larger trim size and higher page counts.
"I think this is a case where we were already filling the gaps with digital content," Keating says. "With a daily eNewsletter, breaking stories, fresh content every day, and a bit of offset timing for our big stories, the audience's information needs are fully met. Further, and this is a big part of the strategy: while we are publishing fewer issues in print we made a guarantee to publish as many if not more edit pages."
Emphasizing the need for marketers to spread their budgets across multiple channels, RB's 2020 media kit notes that one-third of its print readers are already subscribed to the magazine's daily eNewsletters.
"With our content, we aim to be platform agnostic," adds Tesimu. "That's why it was important to us that our magazines continue to be premium, our digital products are best in class and we're constantly looking to go where the audience is and provide them an amazing experience there. Digital gives us a unique opportunity to deliver things in real-time, and we definitely take advantage of that. The flow of content to users is constant."
On the marketer side, where many of RB's largest and longest-standing accounts are handled through agencies, Keating says the early feedback "has been incredible," since the plan was rolled out in September, and that revenue is tracking well.
"They get it, because it aligns with what they're doing," he says. "We heard the terms 'forward-looking' and 'innovative' quite a bit."