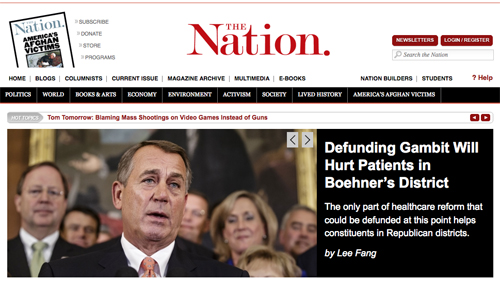 We're doing something revolutionary at The Nation: we're finally testing different paywall strategies. Sharing this is like dumping my purse on the table of a restaurant—it's a mixed bag of embarrassment and pride. Why haven't we done this sooner?
It's a little tricky, of course, being a subscription-based publication with a 150-year history of an audience allied to very strong editorial content. We have become increasingly forward-thinking with our approach to advertising, but at the core of it, our subscribers fund the magazine. At The Nation, Editorial Rules. We've been slower to test for all the reasons you think: less money; limited staff; an audience of truth-seekers who find paywalls a moral hindrance if nothing else; a founding prospectus that emphasizes our role to engage open, critical discussion of political and social issues; a staunch belief in the freedom of the press.
Though it may seem anti-climactic to you, given the rigorous discussion and testing around other publications' paywalls, this is giant for us. We've finally moved from discussion to doing, and I, for one, could not be happier. Movement and experimentation, not standing still and hiding, is how smart business decisions are made.
Previously, half of our content was behind a paywall that pushed people to subscribe. Now, the majority of our new content will be paywalled for at least a day or two, as it's released. Editors will gradually rotate all pieces in front of the paywall during the week, so that every single piece will get its chance to circulate for free. This allows editors to better control the timing and PR strategy surrounding the release of content, but especially helps the efforts of the marketing team. Because our issues go live each week, the impact of our paywall is to encourage people to pay for instant access to our content.
One of the most unanticipated pushbacks has been not from readers, but from writers who worry about cutting off eyeballs to their page. Our editorial staff has done a good job of communicating the necessity of testing, and I hope that my points below help other publications open a constructive dialogue about paywall strategy with their writers.
1. Our financial vitality is necessary in order to further our editorial mission.
Being a subscription-based publication, we rely on money from our readers in ways that other places do not. I'm not giving away free copies of The Nation at the dentist's office; our basic annual rate for a printed magazine is $79 (a pittance compared to $138 for The Economist). We are not beholden to advertisers or a ratebase, leaving us to refreshingly cover what we want how we want. News media across the board have been fighting an uphill battle against free news on the web for years; The Nation is not immune. But I sense a shifting of the tides, and the industry has been teaching readers, little by little, that good, factual journalism costs something. Sending a reporter to Egypt or Russia or a photo-essayist to Detroit costs more than travel fees—these reporters are in Syria or Russia or Detroit, and readers should expect to have to pay people for the work that surrounds these issues. Believe it or not, solid, rigorous reporting isn't done from a desktop or pieced together from a bunch of Wikipedia facts. Real journalism, like a crane operator or a chef, requires nuanced skill, time, and expertise. Writers know this. But it's easy for them to lose sight of this in a vacuum—especially in an era we've created where we make clicks and pageviews count more than actual content, which practically demands a reversal. What needs to be reiterated is how, in order to avoid becoming a slogfest of half-truths and online "facts," we need money to fund their work. If we're not relying on advertising, then we need to rely on circulation. And in this day and age, a paywall is just another type of circulation.
2. Our readers, not our advertisers, are our future.
I liken our readers to Packers fans. Green Bay is the only community-owned sports franchise in the country. Cheeseheads are rabid about their Packers because they have a psychological stake in the team (no dividends are paid out; extra monies go to a variety of non-profits throughout Wisconsin). The structure is different, but the sentiment is similar: The Nation's writers give readers a point of view they don't often read. We need them both on board to continue our work. As long as we push affordable business initiatives to a new audience, we can build said audience with a greater psychological investment in our content provided by the writers. The readers and writers work in tandem, walking along a tightrope of limited funds, and without those funds, both will falter.
3. Leverage the exclusionary aspect to inspire a bigger audience.
It's not rocket science: the glut of crap on the internet is astounding, and we all read it, but we don't remember it (when was the last time you quoted a Yahoo News statistic at a meeting?). Everything has been bit.ly'ed to the point where news has become trivia questions, not actual substance. But the writers can fight that, with their own followings and via their own audiences, by talking about their "exclusive" content on The Nation. It's a way to leverage money for the paywall, but also for readers of their content. They want more eyeballs, not less; their resistance is to the general idea that a paywall will reduce eyeballs. This may be accurate on the outset. But the ownership is on everyone at the magazine—from the PR team to the writers' own connections—to emphasize the importance of their pieces, offer teasers, and establish a firm stance that there is a reason we are asking you to cough up some money (in our case, $9.50) to read content. We're like an exclusive club that costs next to nothing to join.
4. Finally, this too shall pass.
This is only temporary. This is only a test. Remember: it will either work or it won't. If it works, then you've got the eyeballs, and we've got money to pay you. If it doesn't, we experiment with something new and try a different angle. I promise you, it's not in my interest to pour money into a continually failing strategy. Trust that your business staff is doing the best they can in your interest and in the publication's, and that we won't do something that will hurt the future of magazine.