The Next Phase for Digital Magazines

Take a look, it could be your future.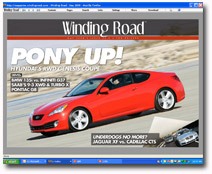 Remember your magazine's first Web site?
For most publications it was a simple copy and paste job. We copied content from the magazine and pasted it right onto the the new Web site. The big question of the day was, "Should we hold off posting the Web content, as it might hurt readership of the identical print content?" Then something unexpected happened that changed everything:
Nothing.
That's right, nothing happened. Because we discovered that no new Web content meant no new Web visitors, and as result, no new ad dollars. The dialog abruptly shifted to how we could develop fresh content for the magazine's Web site and how to monetize it.
That was 10 years ago. So why are so many publishers having the same discussion, right now, about digital magazines?
I've heard it all over the magazine industry, "We tried publishing a digital magazine, but nothing happened." How soon we forget … no new content equals no incremental new readership and no incremental new revenue.
But what if you put new content into digital magazines? What if they were not just a duplication of your magazine but an extension into niche areas unprofitable to service with print? What if they were utilized as a new content platform, not just a means of digital distribution? What if they were created to function as graphical, upscale newsletters in industries or categories where graphical appeal counts?
The trend has already started. Winding Road is a digital only car magazine that gets over 180,000 unique readers viewing an average of 22 pages every month. Click on the link and take a look. It could be your future.
P.S.: Why no industry association has taken the time to research the basics of how digital magazines work as an advertising platform is a mystery to me. I'd like to help start that discussion with anyone willing.
Meet the Author
---