William Pollak

CEO | Incisive Media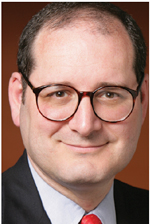 Incisive is part of the b-to-b group that has moved from the four-legged stool (print, online, events, data) to thinking about revenue generation—or, what the revenue return is on everything we do. Some questions we ask ourselves are: 'What's the return on a piece of content? A Web page?' Increasingly, we've found that it's all about generating revenue, whether that is through readership, viewership or content generation.
I believe that our business used to be siloed, but the walls have come down because they've had to. While most of our business is in legal publishing, we also cover areas like commercial real estate and business technology, and have even seen the walls come down between these silos.
We're in the process of moving toward the end user side more over the marketer-driven side of the equation. Currently, our revenue is divided about 50-50 marketer and end user, but we are looking more toward the end user side. Because of this, we are constantly looking at what additional content we can create and package in order to attract revenue from this end user.
Since we are so brand-centric, we don't have a primary purpose of lead gen or advertising. A powerful brand like American Lawyer, for example, can be successfully monetized as one of our hosted events. But it's also about giving consumers the entire brand experience, which may include something like exposing event attendees to our top editors.
All of these efforts are ultimately going toward building business information-driven, end user-supported, electronically-distributed products. This means that increasingly for Incisive, it's about electronic infrastructure, content repository, a content tagging system and an e-commerce system—anything that will better support an end user-driven business.
From a personnel point of view, we haven't done as much recruiting from the b-to-b sector, but instead from the business information area. These hires are different from traditional b-to-b staff in that they have experience creating products for end users and aren't just thinking about digital distribution, controlled media, or free Web sites with only an advertising payoff.
While our print products remain dominant in our business mix, we think this will flatten out in favor of growth in data and online. Currently, print makes up about 70 percent of our revenue, with events around 15-20 percent and online 10-15 percent. We've seen the end user part of the business (data), and even subscriptions grow faster than the advertiser portion of the business.
Meet the Author
---