William Pollak To Leave ALM In Early 2012

Third major b-to-b CEO to announce departure in the last two months.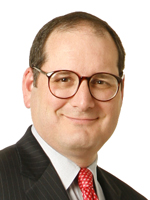 ALM, which serves the legal and real estate industries with brands such as American Lawyer and Corporate Counsel, announced today that Willam Pollak [pictured] will step down as president and CEO early next year. Pollak will remain as a consultant with ALM through June. A search for a replacement is underway.
Pollak, who also serves as current chairman of American Business Media (a role he will retain for the remainder of his term), has been ALM president and CEO since 1998. In 2007, London-based Incisive Media bought ALM for $630 million (ALM at the time had estimated revenue of $200 million and $50 million in EBITDA). However, in December 2008, Incisive Media breached its banking covenants and in the ensuing restructuring ALM was spun off as an independent business in a deal that cut ALM's existing debt from $450 million to $300 million.
Last fall, ALM reorganized its editorial structure, placing the national news staff–which formerly operated under a brand structure–into cross-platform content teams focused on seven topics: large law firms; in-house counsel; national legal news; litigation; intellectual property; international legal news; and legal technology.
Pollak becomes the third CEO of a major b-to-b company to announce an exit in the last two months. Sharon Rowlands left Penton Media on Nov. 1 to become CEO of Falls Church, Virginia-based Altegrity, while in October Andy Goodenough stepped down as CEO of Summit Business Media.
Summit CFO/COO Tom Flynn replaces Goodenough in the interim while the search for a replacement is conducted. Following Rowland's departure, executives from Penton's two private equity-owners–Tyler Zachem, managing director of MidOcean Partners and Anup Bagaria, vice chairman and managing director of Wasserstein & Co.-are serving as interim co-CEOs.
Meet the Author
---