Will U.S. News Weekly Work?

Following print frequency pullback, publisher launches digital edition.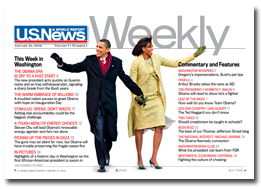 U.S. News & World Report—having lost its status as a newsweekly in print—has launched a weekly digital magazine called U.S. News Weekly.
"I don't think the newsweekly concept's outdated," editor Brian Kelly told Portfolio. "I think it's the delivery method that's outdated."
But it remains to be seen if the concept—regardless of the delivery method—will work. Through June 2008, U.S. News saw its circulation fall 10.1 percent to 1.83 million, or about 170,000 copies short of its 2 million rate base guarantee.
U.S. News Weekly will be delivered as a downloadable PDF and carries an annual subscription fee of $19.95 (a trial four-issue subscription is available for $3.95). Print subscribers to U.S. News will be able to download the digital edition for free, the publisher said.
Sections in digital magazine, produced in partnership with Zinio, include "The Week in Washington," "The Presidency," "Washington Whispers" and "Blog Buzz"—repurposed content from U.S. News' Thomas Jefferson Street blog.
In November, U.S. News & World Report said it would scale back its print frequency to monthly.
In 2008, U.S. News saw ad pages fall a staggering 32.4 percent, according to Publishers Information Bureau figures. It was the biggest year-over-year loss of any other title in the ailing newsweekly category.
Meet the Author
---