Will Second Half Single-Copy Sales Bounce Back?

A newsstand sales drop and flat subscriptions obscure signs of an upward trend.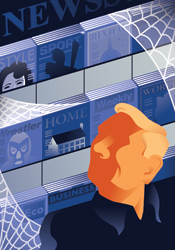 There has hardly been a time in recent memory when magazine circulation has had to contend with such an unfriendly market. There have been increased production costs, economic pressures suffocating consumers and marketers alike—which, in turn, pinched circulation marketing budgets—and a near-total collapse of the newsstand supply chain. It's practically good news that, according to the Audit Bureau of Circulations' FAS-FAX report for the first half of 2009, subscription levels remained flat. Yet the real drama is a significant decline in newsstand sales.
There are small, late first-half signs, however, that newsstand numbers might be trending back up.
Overall, though, subscriptions for the 521 reporting titles were up about half a percentage point (.56 percent) during the first half of 2009, while single-copy sales fell 12 percent versus the same period last year.
Verified Circulation Drops
Verified circ, which had grown as a source for many of the big publishers last year, was down almost 4 percent.
Looking at the newsweeklies, Newsweek reported an 8 percent drop in paid subscriptions. Interestingly, its use of verified circ shot up 187 percent compared to same period last year. Time decreased its verified circulation by 88 percent and recorded a 2.6 percent spike in paid subscriptions. The Week remained flat with a .2 percent drop in paid subs and no reported verified use.
Out of the top 10 paid and verified circ gainers with more than 100,000 circ, six were below 500,000 circulation; seven below one million. Global Traveler topped the gainers with a 48 percent jump in paid and verified circ.
New Launches Not Making Up Ground
As a category, the top-selling 25 consumer magazines audited by ABC were all down, save one—Real Simple squeaked out a 1.17 percent gain on the newsstand. Family Circle dropped the most, 22.55 percent compared to first-half 2008.
That's significant because those 25 titles account for almost 50 percent of the single-copy sales of all the magazines tracked on the newsstand by ABC. When best-sellers are down, the category itself is down.
Newsstand consultant Baird Davis also points out in his own analysis for Folio: sister publication Audience Development that the rash of magazine closings has also shocked the newsstand system: In the first half, a total of 62 audited publications, all of which reported newsstand sales in the first half of last year, were either closed or in some cases discontinued being audited by either of the two major audit bureaus.  "In the aggregate these 62 discontinued titles accounted for over $65 million in retail sales in the year previous period," says Davis.
He also notes that, normally, shutdowns are displaced by new launches. This year, however, revenues from the 26 newly-audited titles only managed $13 million. "The effect of such a disproportionately high number of discontinued titles in comparison to newly audited titles produced a net loss of 36 titles and a sales shortfall of 14 million units and $53 million in revenue," Davis says.
This factor is not averaged into audit reports and Davis estimates that the effect is a further drop of 3 percent—bringing the total newsstand decline to 15 percent.
Among ABC's top-ten single-copy gainers that sold more than 100,000 units, only one—Mother Earth News —broke a double-digit percentage, shooting up 29 percent. The next highest gainer was Women's Health at almost 9 percent.
The six main celebrity titles—In Touch Weekly (-18 percent), Life & Style (-8 percent), OK! (-20 percent), People (-13 percent), Star (-14 percent) and Us (-3 percent)—were all notably down. However, the weeklies were particularly hard-hit when wholesaler Anderson News shut down in February, causing sales losses and delays for its 25 percent marketshare.
Fashion magazines didn't fare much better, with Condé Nast's W registering the biggest newsstand losses for the period, with single copy sales plunging 21 percent.
Large-Circulation Titles Make Rate Base
Despite the newsstand nosedive, the majority of big-circ. titles fulfilled their rate bases. Of the more than 30 magazines carrying rate bases of 2 million or higher—including AARP, Reader's Digest, Maxim and Newsweek—only Playboy fell short, delivering a total paid and verified circ. of 2,453,266, compared to its 2.6 million rate base. A number of additional titles reported paid and verified increases through the first half. Among them were Women's Health (29.7), Taste of Home Healthy Cooking (29.4), Body + Soul (12.1) and Everyday Food (10.4).
Newsstand Sales May Start Trending Up
A jump in unit sales and revenue late in the first half may be signaling a shift in momentum as we enter the second half of the year. According to MagNet, a data company that tracks store-level magazine sales, May and June were up 2.6 percent in units and 2.1 percent in revenue compared to the first four months of the year. In other words, the sales decline appears to be slowing down.
"These numbers indicate to me that May and June may have changed the momentum on the newsstand for magazine publishers," says Ken Godshall, MPA's executive vice president of consumer marketing. "That's a change in direction from what we've seen in the last couple ABC periods and may be a sign of hope for the future."
As the supply chain emerges from the rubble, it appears sales are on an upward trend. "The May-June period was down in 2008 versus the first four months, so last year we were losing traction and this year we're gaining traction," says Godshall.
Yet newsstand sales are only part of the story. The drop in sales received major play in the press to the consternation of the MPA, which responded by releasing a whitepaper in September called "The Full Story on Magazine Circulation Vitality." Looking at the "big picture," the report notes newsstand sales account for  only 12 percent of total consumer magazine circulation and highlights other, more positive, takeaways: Subscriptions are up over same period last year, technology is helping to market subs more effectively, and magazine readership continues to grow—up about 5 percent from 2005.
SIDEBAR
BPA Worldwide Freezes Dues and Audit Rates
With b-to-b publishers facing significant ad revenue declines and a beat-up economy that continues to make forecasting difficult, BPA Worldwide's board of directors has unanimously agreed to freeze audit rates and dues at July 2008 levels.
Indeed, ABM announced ad pages fell 30 percent through the first half of 2009, a factor that has publishers scrambling to manage costs. Subsequently, BPA's phones began "ringing off the hook" early this year, says the audit firm's president and CEO Glenn Hansen. "As those calls started coming in we were very sensitive to that as we put our budget together in January," he says.
The freeze remains in effect until June 30, 2010, the end of BPA's current fiscal year.
While BPA's consumer counterpart, ABC, has effectively frozen dues and rates for its newspaper and magazine members since 2007, Hansen says this is the first time as president that he's had to institute a rate freeze. "I've always been an advocate of raising dues and rates—at low percentages—each year, but this is the first time we're not going to in the 10 years I've been president."
Hansen adds that historically, under previous leadership, dues and audit rate freezes are followed by "huge" increases the following fiscal year. While there's potential to hike rates in 2010, they won't have to be dramatic because, says Hansen, of the way BPA is managing its costs this year.
The rate-freeze can be interpreted as both an effort to help publishers save costs and keep BPA's membership active. There's been story after story of publishers making significant cuts, and it's not hard to imagine that audits are toward the top of the list.
Combine that with an increasingly complicated product platform mix that has some publishers arguing for greater flexibility in auditing metrics, and others implementing audits only when a competitive scenario dictates and you have unprecedented pressure placed on the audit market.
Questex Media, a large b-to-b publisher, left BPA in April for "nimbler" Verified Audit Circulation seeking a more flexible audit process. UBM's TechInsights group left late last year to create its own in-house reporting system. And PennWell is now working with BPA on a brand audit report prototype, called Brand Reach Audit Report, to go beyond even its current integrated media report services.
In the meantime, BPA is touting its free Web measurement audit as an added value. "We continue to add more of our members into the BPA-Nielsen measurement tool, which is no additional cost," says  Hansen, who added that 22 percent of members are currently using the service.
Meet the Author
---