Will Newspapers Go Non-Profit to Save Themselves?

Senator introduces bill to allow papers to declare tax-exempt status.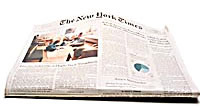 The Non-Profit Times?
That's what one senator, at least, would like to see happen.
Yesterday, U.S. Senator Benjamin L. Cardin (D-Maryland) introduced legislation that would allow newspapers to become non-profit organizations in an effort to help the faltering industry survive.
The bill, called the Newspaper Revitalization Act, would allow newspapers to operate as non-profits under 501(c)(3) status for educational purposes:
Under this arrangement, newspapers would not be allowed to make political endorsements, but would be allowed to freely report on all issues, including political campaigns.  Advertising and subscription revenue would be tax exempt and contributions to support coverage or operations could be tax deductible.
This isn't a new idea. Anya Kamenetz, author of a book called Generation Debt (which is about loan-riddled college kids, not the sucking newspaper industry) suggested in a 2007 article—published, somewhat ironically, in Fast Company—that newspapers should go the way of NPR:
Take the old Gray Lady. She's no less shining an example of New York's cultural heritage than the Metropolitan Opera. So why shouldn't the Times, like the Met, turn itself over to a philanthropic foundation that could invest in long-term quality over quarterly revenues? Whether the future is digital, dead trees, or a combination, the foundation could protect the Times' highly trained staff, research resources, reportorial traditions, archives, and matchless global brand.
In the article, an industry analyst calls the proposal "a wonderful idea that nobody is going to endorse." Well, now we have at least one.
Unlike newspapers, the magazine industry is not quite at Defcon 5 yet. And, like it or not, newspapers are considered by people like Cardin—and for that matter, Obama—part of the fabric of America, like apple pie, baseball and government bailouts.
But the bigger question is, can it work? Should it? And would this approach have saved, say, the Seattle Post Intelligencer from print extinction? And could it save, say, newsweeklies?
Not sure, but it's not a bad conversation to have, either.
Meet the Author
---