Will Gas Prices Accelerate Death of Print?

Fuel fuels magazine fire—but, hey, it's good for digital!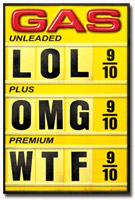 Print industry executives have been ratcheting up the reverb on "print is dead" rhetoric for years now. And there have been plenty of reasons to worry. But spiraling gas prices wasn't one of them. That is, until now.
Check out the "Perfect Storm" scenario laid out via Steve "Micro Persuasion" Rubel's blog:
For starters, as gas prices go up, so will the distribution costs. This could have a significant impact on margins. … Second, there's a greater awareness among consumers of their environmental impact. At the Forbes Online Brand Summit earlier this year, Jeff Cole from USC Annenberg predicted that as this broadens, consumers will cut back on print in favor of digital media. I think he's right. … Last but not least we have the growing popularity of speedy 3G-enabled smart phones, including the new iPhone 3G. The devices are declining in price while offering a lot more sophisticated experience for reading news.
That third part I'm not so sure about (I consume more media than most, and I am not a huge fan of the smart phone browsing experience) but there's truth in the first two.
The analogous question publishers should be asking themselves—or, at least, be prepared to ask—is this: Are they George Clooney? Are they willing to go down with the ship?
[image via Idolator]
Meet the Author
---