"This is the craziest time ever to launch a magazine, except for all the other times," wrote Rex Hammock, founder and CEO of custom publisher Hammock, Inc., in a recent post on FOLIOmag.com.
Hammock succinctly captured the prospects facing print publishers. On one hand, print advertising is down (ad pages in consumer magazines fell 9.5 percent to 164,125 in the first nine month of 2009 according to MPA's Publishers Information Bureau, while Macy's reportedly cut its entire print budget for the first half of 2009). Advertisers are clamoring for "measured media" (even if many are more concerned with a stripped down, commoditized buy than understanding the results). The newsstand, with 70 percent of copies unsold, is obviously broken. Postage and distribution costs are becoming insurmountable for many small and mid-sized publishers (especially those that don't qualify for cost savings programs like co-mailing). Reader habits are shifting away from print to online (and not just for Gen Y) and print titles from PC Magazine to Financial Week are ditching print and going digital-only.
Magazines may also be becoming something of a luxury item. A recent Forrester Research survey found that while 77 percent of consumer respondents will hold steady with their current level of print magazine subscriptions in 2009, 18 percent expect to cut back and just 4 percent plan to boost their number of subscriptions.
"Five out of every 10 magazines and newspapers will go out of business, scale down their frequency or move entirely to the Web," predicts Andy Cohn, vice president and group publisher, Fader Media. "This will not just be survival of the fittest, rather survival of the most willing and able to adapt to the changing media paradigm and throw all of the old rules out the window."
There were 335 new magazines launched in 2008, according to MediaFinder.com, an online database of U.S. and Canadian magazines. Or 634, according to University of Mississippi professor Samir Husni. Or 191, according to Magazine Publishers of America. What these observers do all agree on is that the number is down significantly from 2007. Husni says that the number of new magazines with frequency of four or more issues per year was 191 in 2008, down from 233 in 2007.
On the other hand, print has faced hard times before and the right publication can still find success. Many people claim a downturn is the right time to launch to catch your competition off-guard (Fortune famously launched just four months after the stock market crash of 1929). The Atlantic, fresh off a redesign and a July/August issue that sold 83,300 copies, one of the top five in its 150-year history, announced it will raise its rate base from 400,000 to 450,000 with the January 2009 issue.
Reader's Digest is set to debut three new magazines in the first quarter of 2009 (after launching five new titles in 2007), including The Purpose Driven Connection, which borrows from the celebrity-driven model of Everyday With Rachel Ray to team with Dr. Rick Warren, pastor of Saddleback Valley Community Church and author of The Purpose Driven Life. The quarterly magazine is part of a multimedia platform including DVDs, downloadable discussion guides and a social networking Web site.
Despite the odds, print still has a place for publishers with the right audience. This article looks at how publishers are approaching the process of launching a print magazine today, from identifying the opportunity to getting funding to rightsizing the launch to dealing with costs and revenue.
Is Print Still Viable?
Just like no smart publisher launches a new print product without a digital component (which increasingly is becoming the primary component), no smart publisher believes that any one revenue stream is coming to the rescue. Online ad revenue continues to grow, but expectations are being reigned in. Online ad spending grew 7 percent in the third quarter of 2008 according to TNS Media Intelligence, which sounds good until you realize that's less than half of the 17.2 percent growth online advertising posted in the third quarter of 2007. Digital publishers are starting to feel the squeeze as well, including TechTarget, which laid off 76 people in December (and shuttered its only two print titles).
Trade shows, the purported savior of b-to-b media, posted the first revenue drop as a category in seven years for the first three quarters of 2008, down 3.7 percent according to American Business Media's Business Information Network. Not only are slashed travel budgets affecting show attendance, but with those remaining employees now taking on the jobs of the two or three other colleagues who weren't as lucky, who can take time out to attend a show?
And while CEOs may talk digital publicly, privately they're still looking for print to come through. New print advertisers were the second-fastest growing revenue stream (after online) for both consumer and b-to-b publishers in 2008, according to FOLIO:'s Consumer and B-to-B CEO Surveys. In 2008, 52.5 percent of consumer publishing CEOs and 61 percent of b-to-b CEOs said they expected increased revenue from new print advertisers.
The cost of selling print advertising has declined in recent years, according to ABM's Financial Trend Report and a recent Slate.com article said that the typical online CPM is worth between one-seventh and one-tenth of print CPM. (Although some publishers are entrenching in old models too much—Conde Nast recently cut more than three dozen online staffers as well as most of its Portfolio.com staff).
"We're not hearing anybody walking away from print," says Roberta Garfinkle, senior vice president and director of print strategy at media buyer TargetCast. "Advertisers are looking to us to be more vigilant about how we spend print dollars and really scrutinize ABC or BPA statements. We're talking to magazines more about their plans for the coming years—including changes in circulation and the editorial product in the down economy, but we're not hearing anybody say, 'We're not doing print, print is in trouble.' In fact, we have one client who hasn't done print in a while who's coming back to magazines. They think it's a viable medium and the message they want to convey for 2009 is a perfect fit for print."
New launches can get on an advertiser's radar—if they offer the right fit. "What attracts the advertiser is what has always attracted advertisers—edit synergy," says Garfinkle. "How is this advertiser's message going to fit in the edit environment? We do a deep dive on numbers, audience, circulation. That's not changing in any way. Convince me you've done your homework and you've got enough money to support this magazine."
Health titles posted 41 new launches in 2008, according to MediaFinder.
City and regional magazines posted the second-most new launches, thanks to a lower barrier to entry in building lists and creating distribution than for national publishers.
"We are in the process right now of surveying regional publishers to find out what's going on in two specific areas, and in the course of that, what we've found is that not only is print far from dead, it's quite the contrary," says Kim Mac Leod, president of Regional Media Advisors, a firm specializing in strategic assessments and mergers and acquisitions for regional magazines.
"A few publishers have used this timeframe (smartly), to launch the new print products that they've wanted to do, which they know will work, and which as yet have no competitors," continues Mac Leod. "Launching a business in a recession can be good business, because it allows the new magazine time to develop recognition in the marketplace, so that by the time the advertising market starts to come back strongly, the new product has already established a foothold."
Food titles were the third biggest category for launches. (According to Garfinkle, Food Network Magazine, the collaboration between Hearst and The Food Network, is the one new title generating significant buzz among major advertisers.)
New Role for Print
The role of the magazine is changing. Weeklies are disappearing and while monthlies still work, annuals and bi-monthlies are becoming Web-based supplements. Costs are changing as well—personnel expenses are being streamlined while some publishers are intentionally boosting paper quality for magazines, with good results. "Magazines are still a great way to declare community and build a bond between audience, author and advertiser," Federated Media founder and chairman John Battelle told FOLIO: recently. "But given the reality of the economics, only certain kinds of magazines make sense anymore. High-end production value? Yes. The reverse? Yes. In the middle? Not so much."
Most publishers have shelved plans for new print launches in 2009—or at least those as multi issue standalones. "I would not consider launching a magazine in 2008-2009," says Access Intelligence CEO Don Pazour. "On the other hand, I would support single-themed print extensions of our e-businesses and events. There is something enduring and attractive about print that cannot be matched with events or online businesses but I believe it will and must take on a different role than the periodical publications."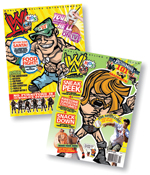 Some titles prove print can still connect with a younger audience. WWE launched WWE Kids in April 2008 as a way to build its fan base. "Research shows that the earlier the introduction to the brand, the more likely people are to stick with it," says publishing director Bob Lee. "When we went out to introduce the kids magazine, we spoke to some of our partners and the question wasn't why, it was more like 'Why have you waited so long?'"
Still, WWE is a bit under the radar for media buyers, many of whom just think of the brand as live events, according to Lee. "We have 2.6 million 6 to 14-year-olds who watch the show weekly as well as attend the events," he adds. "The numbers are there."
Initial circulation out of the gate was 75,000, but the WWE is now estimating to do about 100,000 at a $3.95 cover price. "We had Walmart and Toys 'R' Us buy in out of the gate," Lee says. "Walmart eliminated over 1,000 magazines in 2008 [including SI Kids], but we were one of the ones they added."
To drive subscriptions, WWE submitted one four-page insert in one issue of WWE Kids and got 10,000 sign ups. The introductory offer is six issues for $20. WWE Kids was bi-monthly in 2008 and the company plans to take it to nine times in 2009.
"I feel as though the goal for launching a magazine in this climate is to try and break even," says Lee. "That was our goal but we were able to surpass it and we will make a profit on it in its first year."
In October 2008, WWE launched WWE Kids UK and in early 2009, the company will debut WWE Kids Mexico and WWE Kids Spain. "We've got four to six others in the works that we anticipate launching at some point in 2009," says Lee.
When Print is the Right Choice
In March 2009, Advanstar will debut Optometry Times, but executive vice president Steve Morris is quick to downplay the role of print. "The reality is that we aren't really excited about opening more print publications in this environment," he says. "Our strategy has clearly moved to digital with the launch of [online hub] modernmedicine.com. Our strategy isn't about launching more print; it's about primary and secondary targeting with more accountability, more syndication and more reach for clients. However, it became financially easy to make this decision [to launch
Optometry Times] even in a tough print environment, since the financials are very good."
Optometry Times will call on the strong readership and successful platform of Ophthalmology Times for a 33,000 controlled circ. "We want to make sure that we have three legs of the stool on the optometry side," says Morris. "It's very easy to make the decision to tap into optometry in print, the same as we are doing in events and digital. The optometry market is 33 percent larger in print than ophthalmology."
In the ophthalmology market, Advanstar sees 50 percent of its revenue from print and 50 percent from digital and events. Optometry is a more mature market. "Market research tells us that 55 percent of respondents prefer to read optometry journals in print, 3 percent prefer to read online, and 43 percent would like to have both print and online," adds The Ophthalmology Times group publisher Lauri B. Jorgensen. "By and large, this community, like many other specialty areas, still prefers print. Another critical element we took into consideration is the fact that online search and e-media education are still largely driven through print magazines."
Publishers have long dealt with the fact that their print and online audiences are often separate (part of the reason, at least on the b-to-b side, is that print products are qualified while online products are typically open to anyone who registers). When Wired launched, the magazine attempted to get online readers' physical addresses by offering to send them a free report. "The presumption was that a large percentage of people would also be print subscribers and vice versa," says Greg Jones, co-owner of consultancy Granite Bay Media. "Not only was there not a big overlap—less than 5 percent—but a very large percentage of online readers weren't even aware of Wired's print product."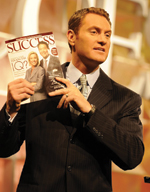 While many existing magazines are focusing more on digital, Success, which relaunched last March under new owners VideoPlus, saw print as essential. "Success has been a print product for 116 years, that's where the heritage is," says publisher Darren Hardy. "There is a different audience for print and online. I live online all day. When it comes to long narrative, I don't read it online. It's a lean-forward experience on your computer. The same guy who will sit on his couch for three hours will have incredible ADD on the computer. There will always be a place for print. Will it shrink? Yes. Can you serve both audiences now? Yes. Success as a magazine is a branding effort for us. There's credibility in a print publication, on the newsstand, that you mail out, in living color. I think Success would be a tenth of its value if we just brought it back as a digital edition."
McGraw-Hill's new HQ, which was announced in December, targets building owners and developers as well as design and construction professionals. The magazine will be published twice per year to start, while a Web site will serve a different audience more frequently. "The print and online audiences are complimentary," says Norbert W. Young, president of McGraw-Hill Construction. "Our research shows that when the CEO sees something they're interested in, they will go to the corporate real estate people to find out more. That's where the Web comes in, to serve as a resource for that real estate person."