Why Would Anyone Launch a Print Magazine Today?

Publishers who do it right are finding print still has legs.
Getting Funding—Are Magazines Now for the Wealthy?
Obtaining funding for a print launch is getting harder, especially for the entrepreneurial startup. "The first question everybody asks, especially of entrepreneurs looking for launch funding, is why would you launch in print in today's market and not launch digital instead?" says Jones.
Investors won't bite unless there's a clear digital strategy tied to print. "Properties with single titles are toughest to finance," says Chris Mangan, managing director and head of U.S. media finance with Stamford, Connecticut-based Bank of Ireland. "Diversity of flagship titles and a complement of events and trade shows demonstrate that diversity of collateral, for lack of a better phrase. With the loss of eyeballs on the print side, you want to see the Web bridging that gap."
However, the costs for launching a new magazine (outside the city and regional market) are rising and entrepreneurial startups that are new to magazines may be squeezed out.
"The barriers to entry are much higher today than they ever were," says Michael Rooney, chief revenue officer of the Wall Street Journal, which in November 2008 launched WSJ, a luxury magazine distributed with the paper. "I got my education at Rodale in the mid-eighties, when you could put an idea out on the newsstand with 250,000 copies and tell pretty quickly what you had. That was the acid test. That's become an impossible way to do it. In those days, the most successful publishers were the private entrepreneurs rather than the publishing companies. Today, it helps to have a company behind you."
Managing Launch Costs: Shorter Timeframe for Success
In 2006, Hanley Wood launched Architect, an "old school" launch in that the publisher invested heavily in the magazine and was prepared to endure some substantial losses initially until the magazine gained momentum (Architect actually generated $5 million in revenue and broke even in its first full year of operation).
Today, that two-to-three year window that publishers had to achieve success is mostly gone. Publishers are now modeling print start-ups to pay off out of the gate (or at least within the first year of launch), and most are looking to leverage existing resources to do so.
Total operating expenses per publication averaged $4 million for b-to-b publishers in 2007, according to the ABM Financial Trend Report, presented by The Jordan, Edmiston Group. That's down less than 1 percent from 2006 and up 2 percent from 2005. Editorial expenses were the single biggest cost at an average of $1.2 million per publication, up 1.8 percent from 2006 and 2.7 percent from 2005, followed by advertising expenses at $968,000. Average circulation expenses grew 2.7 percent to $351,000 in 2007 while distribution expenses actually shrank 0.8 percent to $474,000.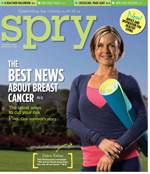 Absorbing costs like these is key for any new print launch. Dubbed "the largest health magazine launch of all-time," Spry—a newspaper-circulated title from The Publishing Group of America, publisher of Relish and American Profile—debuted in September with 9.2 million circulation—200,000 more than the publisher initially expected when it announced the magazine last January.
"We've found that it is hard to launch a newspaper magazine small scale," says PGA CEO Dick Porter. "The fact of the matter is that if you get 10, 20 or 50 newspapers to buy you, you get big pretty quickly, since their circulations are thousands of households."
Porter says Spry will achieve profitability in 2009. "With this model, it doesn't have to take five years for a newspaper magazine to make money," he adds. "It costs us less to retain a reader; we have no direct mail or subscriptions. I bet typical publishers are paying 20 times what I pay to acquire and retain a household. In this economy, we have no investment in a distribution channel or readers and we can put that money into content."
Success owner VideoPlus has spent between $5 million to $6 million on rebuilding the magazine from scratch. "The timing worked out well, there's a greater need for a title like Success today," says Hardy. "When the tide rises all boats, they're not looking for additional ideas or resources."
Still, Success faced a triple whammy of the poor economy, the shift from print to digital, and a sales drive that kicked off in late November 2007—the end of the planning session for 2008 advertising.
The goal for Success was to move 100,000 copies when it debuted and the magazine sold 1 million copies of the first issue. "We kept the guaranteed rate base at 250,000 to keep our CPM integrity and we've kept the page price down even though we've sold more than a quarter million copies each issue," says Hardy.
McGraw-Hill's HQ is a collaborative effort between Architectural Record and BusinessWeek. The roots of the magazine go back to an 11-year-old awards program that Architectural Record developed with BW called "Good Design is Good Business." "We did a P&L to see if we could get it out the door and have it pay for itself," says McGraw-Hill's Young. "Could we hit the market quickly, could we marshal editorial resources, could we get the audience and the circulation list? That's where BusinessWeek as partner was invaluable. Unlike other companies that would struggle to build that circ list, we could move quickly."
The result? HQ broke even on the first issue. In 2009 McGraw-Hill is planning two print issues and one or two small events while building the Web site as quickly as it can.
Building a List
Established publishers have a clear advantage in building a circulation list. "If the publication is launched within the framework of a large multi-title company, the circulation work can probably be performed by the internal staff," says newsstand consultant Baird Davis. "However, if the launch is from a small publisher, the circulation work should nearly always be outsourced to a company that specializes in this work. It is not reasonably possible for a small publisher to launch a new magazine on the newsstand without employing an experienced newsstand consultant."
To build its circulation, Success sent out more than one million direct mail pieces to a mix of prospects including former subscribers and past purchasers of self-help products from parent VideoPlus.
To build the list for HQ, McGraw-Hill Construction leveraged its database of design institutions while BusinessWeek was able to further winnow the prospects down to 65,000 decision-makers.
The database was also a selling point for advertisers. "The ad conversation in the b-to-b space is about connecting media to data," says Young. "We're going back to the database to provide more immediate results than just what a traditional media company could do."
Controlling Launch Costs
Launching a single print magazine in 2009 may seem bold enough but Stampington & Co., a publisher serving the arts and crafts field, will launch nine new titles, bringing its magazine stable to 32 total. The company generates more than $6 million in annual revenue, primarily from print.
Of course, many of Stampington's magazines are annuals or one-offs that leverage existing staff across multiple titles. "We run a very tight ship," says Jenny Doh, editor-in-chief and director of publishing. "We've always been running a business model that is built on very small staff."
Among Stampington's new launches, Quilting Studio will publish two times in 2009, with plans to increase to quarterly in 2010. Generally, only Stampington's less frequent titles may be on the newsstand but most are subscription-only. "The real costs are printing and ink," says Doh. "We have the infrastructure to add several titles without much incident. It's all kind of absorbed as general production costs."
With so many titles set to launch, Stampington has to perform a rigorous vetting process to determine which titles can make it and deserve new resources. "The launch process—even for annuals and one-offs—has to be dynamic and head off ideas that may not pan out before too many resources are committed," says Doh. "We can't say we thought we'd do this twice per year and it didn't work. We have to move quickly, more so than large publishers. We have to be aware not to create a magazine that eclipses titles that are already out there."
Blake DeMaso, president and owner of Summit Publishing, owns several different properties, including Blue Ridge Outdoors. Along with the magazines, Summit Publishing operates a number of smaller companies, including Outdoor Adventure Media, a network of small publications brought together into one group to sell national advertising into regional publications. "With a title like Blue Ridge Outdoors, we go from Maryland to Georgia and west as far as Tennessee," says DeMaso. "The magazine has done well and we are looking to expand, but our title limited us when we sell to national advertisers. Our advertisers told us that there was a big hole to fill in the Colorado area."
Summit opted not to partner with two competitive publishers that were already there, instead deciding to launch a new magazine called Elevation Outdoors. Summit is planning to debut the title in February 2009 with a circulation of 40,000 and a frequency of six times per year.
"The difference in this launch over the launch of Blue Ridge Outdoors is that we took our formula and put it into the Colorado market," says DeMaso. "This meant that we were especially careful to get a specific editor."
DeMaso says the launch investment in the magazine will be a little under $500,000 and it will take two to three years before break-even.
To cut design and administrative costs, art and invoicing will be done out of Summit's Charlottesville, Virginia headquarters, rather than downtown Boulder. The magazine will also rely heavily on freelancers and staff on the East Coast. "We've only made three hires, which are an associate publisher, an editor and an entry-level art person," says DeMaso.
Elevation Outdoors is targeting national accounts already advertising in Blue Ridge Outdoors, as well as local Colorado advertisers. "Of course, in this climate, advertising is more difficult, but in our industry the advantage is that people tend to go outdoors more in tough economic times," says DeMaso. "Comparatively, we are doing fairly well. We knew it was going to be a rough time, but we kept moving forward. I don't think that launching a magazine in a down economic time is a terrible thing. Gaining reader and advertiser support takes time, and we are in this for the long haul."
New Revenue from Print
Publishers are discovering new ways to monetize print beyond the old standbys of advertising and subscription sales. Some publishers are willing to position magazines as loss-leaders, provided they serve as a marketing tool for products such as online and live events.
Some are finding print has new revenue-generating life online. August Home Publishing has bucked the traditional magazine model by selling advertising into only one of its four magazines—and building a more than $50 million company this way. Now, as publishers shy away from charging for content online, August Home has embraced it, selling individual articles and plans from the magazines for $10 each.
Wend Magazine, which combines environmentalism with adventure travel, doesn't sell advertorials into its magazine but has created many digital add-ons from the print product that can be monetized. Wend is in the process of having many of its print stories read by authors and available for download. "Our readers can download it for free but we're selling online advertising as well as sponsored intros to stores to create revenue to support it," says editor Stiv J. Wilson.
With its relaunch, Success is flanked by other business models that take the emphasis off advertising. "Success is the centerpiece of a much bigger business," says Hardy. That includes Success Symposiums, Success.com and the Success Store—an eight-figure business by itself. The company has also developed Success Speakers, a talent management agency and plans to move into Success TV and Success Radio.
"Most print publications live and die by ad revenue but ours does not," says Hardy. "I've had to fight off some of the other executives who wanted to kill off advertising altogether. It will get to point where it's worth the effort. It's also part of credibility and branding value."
Subscription sales is the primary revenue source for Success for the time being (the magazine charges $30 for 12 issues). "The higher the price, the more value is perceived," says Hardy. "We don't want to get into the $9.99 game a lot of publishers get into just to scale up the circulation." The goal for Success is to break even in 2009, according to Hardy.
Reader's Digest is embracing a similar approach with its upcoming launches. "We don't think of a new product as a magazine or as a book or a Web site, we think of it as content," says Alyce Alston, president of RDA's Home & Garden and Health & Wellness affinities. "You can't create content for one medium. With something like The Purpose Driven Connection, people can go online to see a video with Rick Warren. They can create their own prayer wall or prayer group. We'll get our best stories from the magazine, then we're focused on creating real community."
The Purpose Driven Connection is charging $29.99 for a quarterly subscription. "If you're relevant with the consumer, you're relevant with the advertiser," says Alston. "That's the only conversation that needs to be had. It's not 'Here's my audience, here's my CPM.' There's a million conversations you can have about advertising that are still relevant but the most important is relevance to the consumer."
Launching Digital First, Then Print
Some publishers are reversing the traditional launch model by launching online first to build audience and save costs.
Others are exploring digital-only outlets: Tribune Media Services last month launched Cash: Personal Finance For Real People, its third weekly magazine developed exclusively for Amazon's Kindle electronic reader. Tribune Media also publishes Opinion, a social and political magazine launched last March, and entered a collaboration with pop culture site Popmatters.com. Cash will be published weekly on Mondays, with a cost of 49 cents per issue and $1.49 for a monthly subscription.
Jonathon Weber, former editor-in-chief of The Industry Standard, in 2005 launched NewWest.net, a media company consisting of a network of regional Web sites, a print magazine and events focused on business and life in the Rocky Mountain West. The site's content drives traffic and subsequently, audience development. New West then developed an events business, which elevated the brand in the minds of potential advertisers who could see it in action in a face-to-face environment.
Next came the magazine, New West, an 8,000-circ quarterly with a 10-to-1 controlled/paid ratio. The magazine, said Weber, is positioned as a marketing vehicle for the Web site. "The cost to produce it can almost be justified on that basis," he said. [Almost—the magazine has been placed on hiatus until market conditions improve.]
Last fall, Sahara Media said it will re-launch Honey—a magazine for African-American women—online, three years after Sahara acquired the trademarks of the magazine from Vanguard Media. "We engineered the brand back into a digital publishing model because we believe that print has had some challenges," says CEO Philmore Anderson. "We didn't want to come out of the gate with the print book; we wanted to reconnect with the core audience [18 to 34-year-olds] and we thought the most effective way to do that was digital."
In addition to honeymag.com, Sahara plans to launch a social networking component, as well as an e-magazine/newsletter. The site is pegged to launch in the first quarter of 2009.
Sahara has raised $10 million to fund the effort. "On day one we will have over four million previous and current subscriber names in database and over one million e-mail names," says Anderson. "We have the rights to Europe through our brand. When we eventually go into print, we will have a eye on the international market. Our goal is to do print but have a very specific voice so that we can motivate advertisers to rally around specific titles," referring to planned ancillaries such as Honey Bride.
Making Print and Digital Work Together
The strategy of taking a print publication digital-only doesn't have a great track record. Much of the time it's a last ditch effort for a product that can't be sustained in any media—old or new.
However, a flood of print publications are going digital-only. PC Magazine and Financial Week are going digital-only, while U.S. News & World Report is shifting to digital with a monthly print edition. Organic Bouquet, which took over the defunct Organic Style from Rodale, has suspended the magazine's winter issue and is considering converting it to a blog format. Some observers are even predicting Time Inc.'s Entertainment Weekly will go digital-only.
"All publishers are continuing to develop their digital product lines and monetizing them, but it would be a risky strategy for any publisher—or any kind of business—to risk losing a primary revenue stream in the hopes that an untested one sustains the business," says Mac Leod.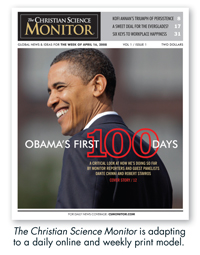 In April, daily paper The Christian Science Monitor will unveil a print/Web hybrid that publisher Jonathan Wells says will save $4 million in production costs, while making it a more viable product. CSMonitor.com will become the focal point, with daily e-mail editions and a weekly print edition. The daily print product will be discontinued. "We have a significantly larger audience online than in print," says Wells.
With a growing need for international distribution, producing a daily print product became inefficient. "Patterns are changing for how people are using print," says Wells. "People are looking at long features when they had time to read—on the weekends. We can continue to sustain print but do it at less cost and frequency."
To accommodate its new workflow, The Monitor is restructuring its staff around a central content management pool which can publish for online or in print. Editors will be responsible for maintaining the Web site daily but may have longer form assignments for the print weekly. "There will be core teams dedicated to the Web and print but they will overlap in how content is developed," says Wells.
The Web product will be ad-based and The Monitor is currently setting targets around page views and CPMs. The weekly print edition will feature an $89 annual subscription fee.
Another product will be a pure electronic play that Wells says is "not Web nor print." Content will be taken from The Monitor's daily news briefings. A series of free e-mail newsletters will drive traffic while a daily electronic product will be offered to subscribers. "That is the middle ground from checking out the Web every day and subscribing to a weekly print edition," says Wells.
When The Monitor ceases the daily print product in April, Wells anticipates the business shrinking in the short-term but that loss in circulation revenue will be offset by the corresponding savings in print distribution.
"I think there will be a stronger demand for the weekly print product over time," says Wells. "When people discontinued subscribing they cited three things: The $209 subscription price, the lack of time to read and the shift to getting daily news off the Web. Over time this will get us to the point of better sustainability."
For The Monitor, the tipping point is now. "We've been considering this shift for years," says Wells. "While it became clear this was the right thing to do, it was no small undertaking after you've done print for a hundred years. The audience migration and the rising costs of print had to come together for us to move forward."
Meet the Author
---