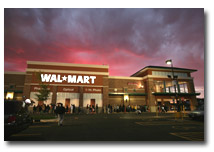 After months of speculation by wholesalers and publishers, Wal-Mart is moving ahead with cutting close to 1,000 magazines from its shelves, and it appears the company's recent commitment to being "green" is a factor.
Representatives from the Bentonville, Arkansas-based company did not respond to calls and e-mails seeking comment. But according to industry sources with knowledge of Wal-Mart's plans, the company's Sustainability Committee—and its commitment to reducing waste—played a key role in its decision.
According to one Sustainability Committee member, the formula Wal-Mart used to determine the cut list was based on a ranking of magazine titles by sales. Any title that was not in the top half of sales in any Wal-Mart store was cut from the list.
Another source says that of the 1,000 magazines, the number of active titles cut was closer to 800—representing three percent of copies sold by the retailer. Wal-Mart accounts for more than 15 percent of total U.S. magazine retail sales.
According to the New York Post, the cuts affected virtually all of the major consumer magazine publishers. Meredith Publishing, which as recently as December had denied rumors that it was being cut out of Wal-Mart, was hit particularly hard, with Better Homes & Gardens and Ladies Home Journal being shown the door.
Other axed titles include Town & Country, Home and Metropolitan Home (Hachette), Cookie, The New Yorker and W (Conde Nast), the Robb Report (CurtCo Media), The Economist, BusinessWeek (McGraw-Hill), Forbes and Fortune (Time Inc.), as well as a number of niche titles such as Boar Hunter Magazine, Spirituality & Health, Cabin Life and Log Home Living, according to the paper.
Long-Time Coming
The cuts should come as no surprise. As far back as in October of 2006, Anderson News, the largest distributor to Wal-Mart, began telling publishers it intended to cut the draw on some of the magazines it distributes by up to 25 to 30 percent.
At that time, Anderson said it had "analyzed sales performances by title for every individual retail store and calculated the appropriate allocation for each store to support sales and minimize returns." The stated goal was to cut its financial losses by reducing the number of magazines with low unit sales, low efficiencies and/or low cover prices.
According to one industry expert, out of the 4,000 titles on the newsstand today (including annuals and one-shots), wholesalers say they lose money on at least half of those titles.