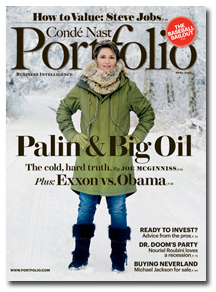 The consumer magazine world was rocked yesterday with the news that Condé Nast shut down its struggling business magazine Portfolio and will close Portfolio.com.
According to president and CEO Charles H. Townsend, the "pressures and realities of the continuous deep economic slump" lowered Portfolio's revenue projections below the level necessary for the company to continue publishing it.
"Portfolio was an ambitious and innovative magazine and Web site, and were proud to publish them," Townsend said in a statement. "The challenges facing this launch however proved too great … It is unfortunate we were unable to give Portfolio the time needed to fully mature."
"Our timing proved to be terrible in terms of building a big ad franchise from scratch," group publisher David Carey told the Associated Press. "We saw where we are and where we want to be in 18 months. The gap between those two points was becoming bigger."
As a result of the closure, more than 85 employees will be let go, including editor-in-chief Joanne Lipman and publisher William Li. Li told the New York Observer Portfolio "changed business journalism. The whole idea of writing breathlessly glowing profiles of CEO[s], we didn't play that game … I'm proud of the fact that in our first year we won a National Magazine award."
Billed as a business publication with big, bold articles and dynamic visuals, Condé Nast reportedly spent more than $100 million to launch Portfolio in April 2007. The magazine watched ad pages plummet 60.9 percent during the first quarter, according to Publishers Information Bureau figures.
"Portfolio was the most impressive magazine launch I've observed in my 30 years following the magazine industry, which included two launches of my own," DeSilva + Phillips managing partner Reed Phillips told FOLIO:. "David Carey and his team did all of the right things—including getting Condé Nast to support the magazine—the same magazine company that stayed with Vanity Fair until they got the formula right. But, no one could have predicted the wallop that hit the magazine industry, and financial books in particular, in the past seven months."
Understandably, the business/finance magazine sector overall has suffered dramatic declines through the first quarter. The top decliner was Mansueto Ventures' Inc., which saw ad pages plummet 46.7 percent during the period. Kiplingers' ad pages plunged 42.9 percent while BusinessWeek saw pages decline 39.8 percent.
'A Lot of Interest in Business Magazines Right Now'
Despite category-wide losses, a number of publishers are confident there is still great consumer demand of business magazines.
"There's not a lot of visibility in the marketplace right now, but we expect the sector to see an improvement in advertising when the economy takes a definitive turn for the better," Harvard Business Review publisher Henry Boye told FOLIO:. "From a demand side, there's a lot of interest in business and the economy right now."
BusinessWeek president Keith Fox agrees. "We have seen double-digit growth to our Web site and our circulation statement remains strong," Fox said. "I believe it is the business category that will help to shape the future of business—more and more people are turning to BusinessWeek for unbiased insights and forward-looking perspective to help move their business, careers and investments forward."
Bad Business
AD PAGES
Q1 2009
Q1 2008
% CHNG
BusinessWeek
258.79
430.04
-39.8
Conde
Nast Portfolio
66.05
168.98
-60.9
Economist
484.96
596.99
-18.8
Entrepreneur
269.49
303.32
-11.2
Fast
Company
69.03
97.00
-28.8
Forbes
428.7
504.14
-15.0
Fortune
316.39
429.42
-26.3
Fortune
Small Business
68.59
74.99
-8.5
Harvard
Business Review
81.84
95.04
-13.9
Inc.
89.89
168.63
-46.7
Kiplinger's
66.76
116.97
-42.9
Money
109.09
146.98
-25.8
SmartMoney
100.94
124.51
-18.9

SOURCE: PIB