Why Newsweek Chose Obama

Meacham on choosing Barack for the primary week cover.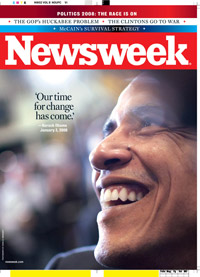 For magazine editors covering politics, it's been Huck-O-bamania since the candidates' surprising Iowa Caucus wins last week. Newsweek chose Obama as its cover subject this week. Newsweek editor Jon Meacham explains why:
A word about the decision to put Obama on our cover. Weekly magazines like ours have traditionally worried about looking stale or out of sync if the candidate we are featuring loses a different primary early in the week we publish. We suffered from that perennial concern until Thursday night. Then, when Obama's victory— 8 points over John Edwards, and 9 over Hillary Clinton—became clear, so did the cover decision. Barack Obama has made not only news but history.

In an election to choose a successor to an unpopular incumbent at an hour of danger, an African-American candidate for president convincingly won a state that is virtually all white; a 46-year-old first-term senator defeated two more seasoned national politicians; an insurgent is roiling the stately party establishment Bill Clinton built as the first two-term Democratic president since FDR. No matter what happens going forward, in New Hampshire, South Carolina and beyond, the Obama win—a vote for a viable candidate of color in a nation in which the issue of race has been called simply "the American dilemma"—is a new chapter in our long national story.
Check out the video of Meacham's explanation here …
Meet the Author
---