Why Everyone Should Look at the Cover Before it Goes to Print

Missing limbs, mutant hands and other Photoshop faux pas.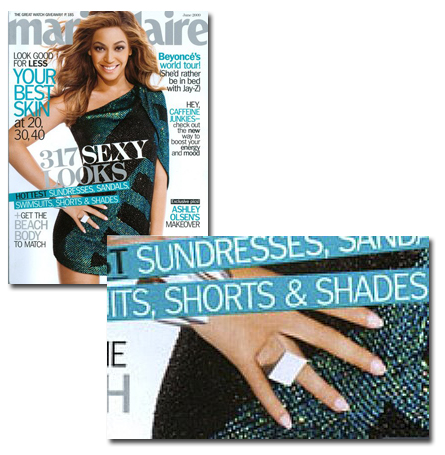 Sloppy use of Photoshop continues to wreak havoc on magazine covers.
Take Marie Claire's June 2009 cover. As the Quality in Print blog pointed out, cover girl Beyonce Knowles was handed a Photoshop-induced finger deformity.
A typical Photoshop flub? In my opinion, no—it was a combination of lighting and reflective chunky jewelry gone awry. But regardless, it's an odd distraction that someone should have picked up on.
But Beyonce's mutant hand is child's play compared to some of the more recent, blatant mistakes, like OK!'s April 20th issue, which showed before and after photos of a "Biggest Loser" reality TV star. The kicker (sorry): the cover's "after" photo was missing a leg.
Of course, these mistakes aren't limited to magazine covers, as seen on Photoshopmistakes.com, "the best photoshop mistakes and disasters from around the world." But inconsistencies—the displaced shadows on Time's November 3, 2008 cover, for instance—are a common occurrence.
So what do all of these snafus add up to? It's the best reason I can think of to make all staffers, bloggers, interns—or even a random guy off of the street—give an issue's cover the once-over before shipping.
Meet the Author
---